A lovely surprise at the Sony Conference this year was the announcement that Oddworld: New 'n' Tasty would be gracing the Playstation 4 with its glorious presence.
For those that missed out on the game's announcement back at Eurogamer last year, Oddworld Inhabitants and UK developers Just Add Water are working together to bring everyone's favourite little-guy-fighting-the-system adventure to the current generation of gamers who missed out on the 1997 classic Oddworld: Abe's Oddysee. But this isn't your run-of-the-mill HD remastering, Oddworld: New 'n' Tasty is a remake from the ground up.
We met up with Just Add Water's Stewart Gilray and Oddworld Inhabitant's Lorne Lanning for a sneak peak up close with Abe's latest adventure in the imaginative universe of Oddworld. If you didn't catch the latest trailer, you can check it out just above, that shows off some of the early stages of the game, now it's clear to see that the famous flip screens are gone, instead New 'n' Tasty will track Abe as he traverses through levels, this will of course change the gameplay somewhat, but there will be new ways to tackle the old tricks of the game.
With the flip screens gone, pre-empting Sligs and sneaking areas would be pretty impossible, so players will also have the option to manipulate the camera dynamically in order to view ahead of Abe, this will not be essential to play, but will add an extra dimension and viewpoint to what has only been seen before as a fully flat game, don't read this the wrong way though, because Abe is staying in his 2D world, the team know what they're doing, and love Abe and his world just as much as you do, it's in very safe, very capable hands.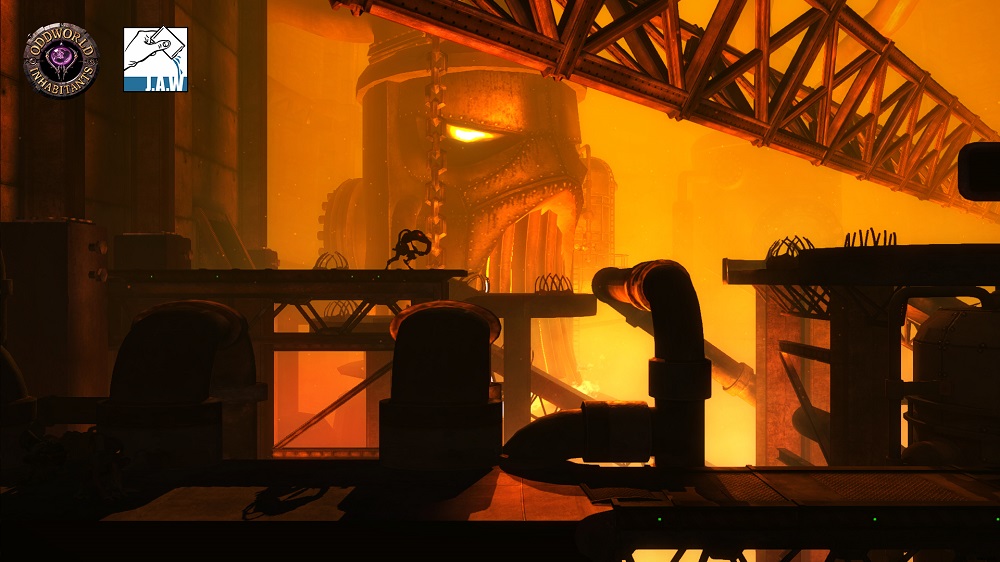 One vast improvement that the team are hard at work on is really bringing the environments of the game to life, the original was very much you platforming against an almost cardboard-cutout of a background, with barrels chugging through the oppressive processing plant, and the static deep-red skyline of Scarabania, it was beautiful then, but over 15 years down the line this just won't cut it, in New 'n' Tasty dynamic lighting brings bold shadows forward, results in the impression of a fully-working processing plant, animated segments are now more vivid and tangible, and true parallax on multiple layers all subtly adds to a profound look of the game, this is not the same world that enchanted players back on their Playstation and PCs.
It's not just looking pretty for the sake of it, New 'n' Tasty is bringing Mudos truly to life, and complete with brand new particle effects, models, not to mention animations for all of your misguided enemies, and friendly Mudokons, including more comical deaths and pretty much everything that Lorne wanted to do with Abe's Oddysee that just wasn't possible at the time.
If there's one thing we're guaranteed, it's that Oddworld: New 'n' Tasty will be completely 'nostagalicious' and playing through the game when it is released you'll find that the world you remember so fondly in your memory has become just as beautiful, challenging and funny as when you first encountered it, so get ready to fall in love all over again.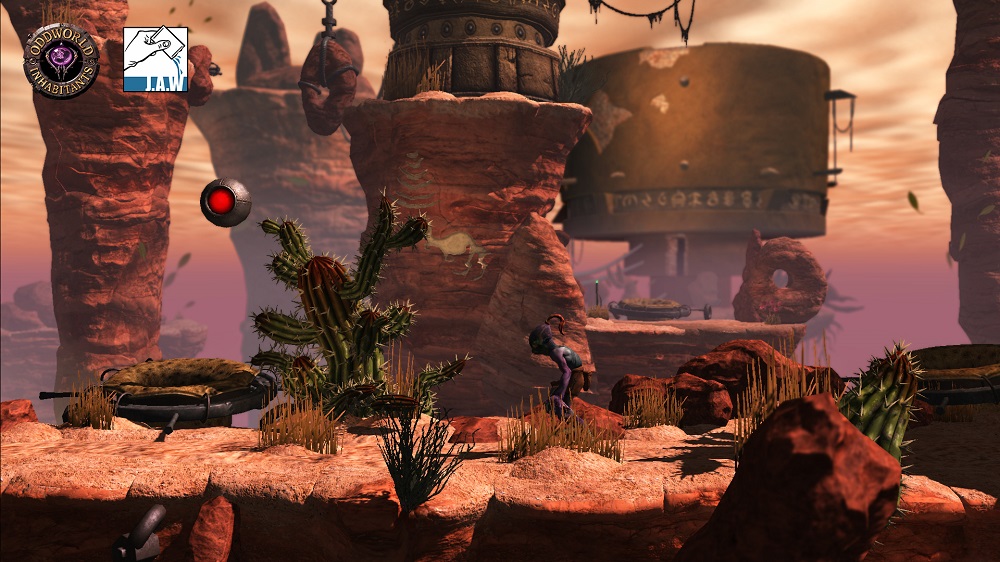 What perhaps is most exciting is the future of Oddworld, which is full of ample plans both new and old, Lorne and Stewart are bursting with brilliant ideas of where they can take the series, and it sounds like they'll never run out either. However for the time being Just Add Water and Oddworld Inhabitants are waiting to see how well New 'n' Tasty goes down before solidly announcing anything else, suffice to say it's a very exciting time to be a fan of the series!
Oddworld New 'n Tasty is scheduled for a release on the Sony PlayStation 4, Playstation 3, Vita and Nintendo Wii U, as well as Windows, Linux and Mac OSX PC.