Get ready to head out on the road in Excalibur Publishing and Lightrock Entertainment's newest Driving Simulator, 2011; more than a simple driving simulator, this sim is 5 games rolled into one, and if you are a fan of simulators you'll love the variety and open-ended gameplay that this title offers.
Driving Simulator 2011 comes with two different modes of gameplay; free play and missions. Much like the original, free play allows you to mind your own business, driving around the extensive map of the Mittstedt and Autobahn location, starting off with a car, and as you play your way through the missions you will unlock new vehicles to relax in.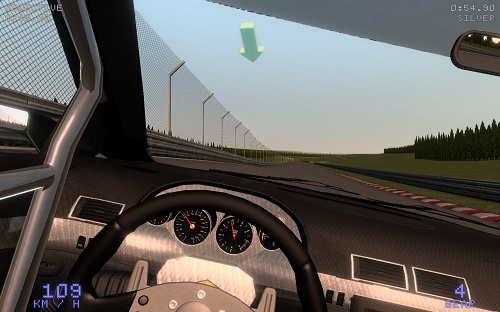 The missions make up about 75% of the game, and whereas in Driving Simulator you had four different scenarios; they were literally the same missions just slightly repackaged. In Driving Simulator 2011 Lightrock Entertainment have gone further to mask the gameplay, and the five different mission types that you can experience are far more enjoyable and varied than ever before.
The Ambulance is possibly the most fun mission in the game and plays out just like Grand Theft Auto, dropping into the mission you will receive dynamically generated accidents in different locations across the city. You'll need to race to your future patients as quickly as possible before their condition worsens, but don't expect to do it like you would in GTA, damage your Ambulance too much and you'll need to get it repaired stat!
The Police missions work fairly similar and are again dynamically generated, with the distance to your nearest criminal you'll need to chase them down along the narrow streets of Mittstedt, the concept is fantastic, however your criminals don't really appear to know that you are chasing them, a full on high speed chase simulator needs to be made.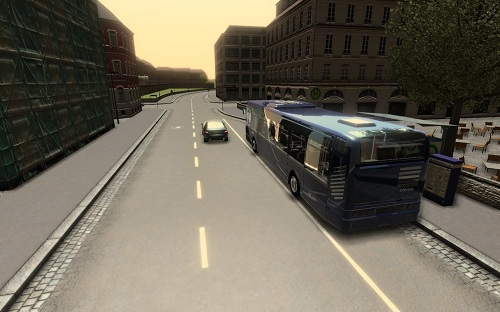 The Bus missions are exactly what you would expect from a bus simulator, but without charging for tickets, and without timetables to follow which gives you a lot more freedom than most. Trundle along from stop to stop on your route, picking up passengers and dropping others off. The bus missions are an added bonus to the pack, buses are a proper niche, but a heck of a lot of fun when you start playing them, and after proving your worth as a driver you will unlock them for freeplay mode.
The Truck simulator is a little different than your standard truck sim, and before you can even embark in a truck you'll have to test your skills of orientation out in a standard delivery van. The Delivery missions are practically what you will remember Driving Simulator consisted of, and because of the lack of a map or proper GPS you will have a lot of difficulty navigating to your destination, but everyone loves a good truck sim whether they are going for a short or long haul.
Something a little foreign to the slow-paced, relaxed world of simulators is the racing simulator added into Driving Simulator 2011; playing out on a racing circuit you can take these fast cars out for a spin around the track. Whilst it isn't about to square up to Forza Motorsport the racing missions are fun, but just feel out of place somewhat in the relaxed environment of a down-to-earth simulator.
Load times are pretty respectable, and the engine uses the same drop in/drop out feature of the previous games which makes it very easy skip between different missions with ease, however one part of the game that seems to suffer is the draw distance which can be pretty short at times, which is a shame because they have really ramped up the graphics since Driving Simulator, and some of the vehicles do look fantastic.
One gripe inherent since the original which has not been addressed is the lack of a map into the game, so once more you are required to follow your green arrow, there doesn't appear to be a map present in the installation folder any more either, so you are practically on your own. This is the one let down of the game which would have greatly improved the player's overall experience, a simple GPS navigation system, or a pop up map would have sufficed for such a simple issue.
Like all good simulators you can shape your driving experience by enabling track assistant and cruise control, as well as setting your transmission. As a rule of thumb cruise control is your friend, and if you want to scream down the Autobahn, the best way to do it is at a nice consistent speed, however one option missing from Driving Simulator 2011 is that you are unable to turn traffic rules off, which can make some missions particularly frustrating to complete.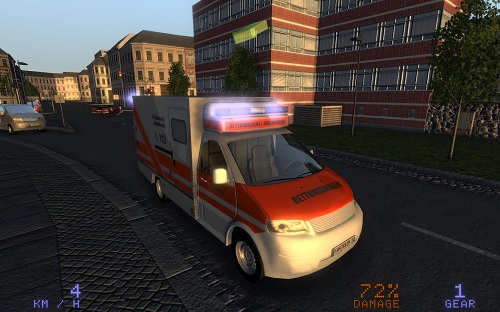 There are still a few issues here and there that were present in Tow Truck Simulator or Driving Simulator, such as AI traffic accidents dotted around the city that back up traffic for a long way, the traffic rules seem very sensitive once again, and with a certain amount of strikes for every mission you'll be at your wits-end screaming at your PC for not acknowledging your indication as you turned the corner.
Once again, Driving Simulator 2011 fully embraces modding, and you can create new scenarios to play missions in, create new locations, new cars and textures, all achieved via Lua scripting, so if you feel yourself a dab-hand at games development, gets your scripting hat on and make some new scenarios to fellow gamers to drive around in.
The shining point of Driving Simulator 2011 is the value for money; with practically a bus simulator, police simulator, ambulance simulator, truck simulator, driving simulator and racing simulator all rolled into one. It's a great example of a low budget simulator that has improved from its predecessor, however there are still a few points that really should have been changed for this outing.

Driving Simulator 2011 is available now for Windows from all good retailers for an RRP of £19.99. As well as keyboard and mouse, Steering Wheel and Controllers are also supported for Driving Simulator 2011, unfortunately there is not an exhaustive list of those fully supported.