One simulator subgenre that has been around for decades and is most definitely staying is the truck sim, however these 18 wheeled hulking vehicles of steel are not only of interest to American 'truckers', and with one of the biggest truck manufacturers based in Sweden, trucks hold a huge allure across the whole of Europe, and so a licensed truck simulator for Scania sounds like the ideal game for many, we just want to say thank you to SCS Software for bringing the game to fruition.
Scania Truck Driving Simulator - The game is more than just a simulator, in fact it has the makings of about three simulators in one, and takes part over a wide variety of different modes presented as competitive challenges where players can compete head-to-head with other truck drivers across the world, and some of the most intense driving scenarios ever seen in a simulator before.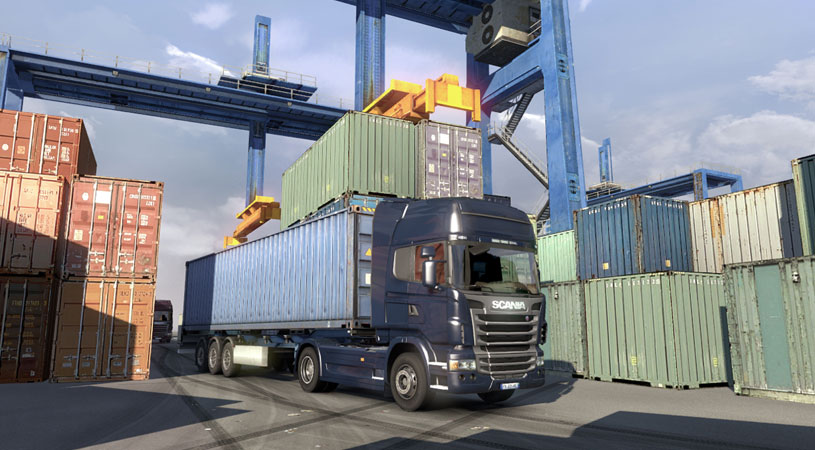 If you played and appreciated the recent SCS release Trucks & Trailers then you'll feel right at home with the Driving License challenges that gets you up to speed with the basics of truck and trailer manoeuvrability including simple tasks like breaking, reversing and attaching your trailer, to the dreaded parallel parking, do not even think that you are beyond these straightforward challenges, because you will be needing them on the road ahead.
The next portion of Scania is the competition tasks that could well be a separate game; based around the Young European Truck Driver contest that takes place annually in Södertälje, Sweden and searches for the world's best truck drivers, and so in this mode you are able to carry out a few of the tasks put to the drivers in real life and the chance to compete in the finals.
Now the pinnacle of Scania Truck sim is the Dangerous Drives portion of the game, this much like it suggests pits you and your fully loaded trailer against treacherous situations with actual dire consequences in what is literally intense truck driving. Dangerous Drives will see you driving along the narrow perilous 'death road' of Bolivia, navigating down heavily parked alleyways, traversing flooded regions and aiding earthquake relief via unstable infrastructures, in this mere mode, Scania Truck Driving Simulator manages to make the simulator genre genuinely cool.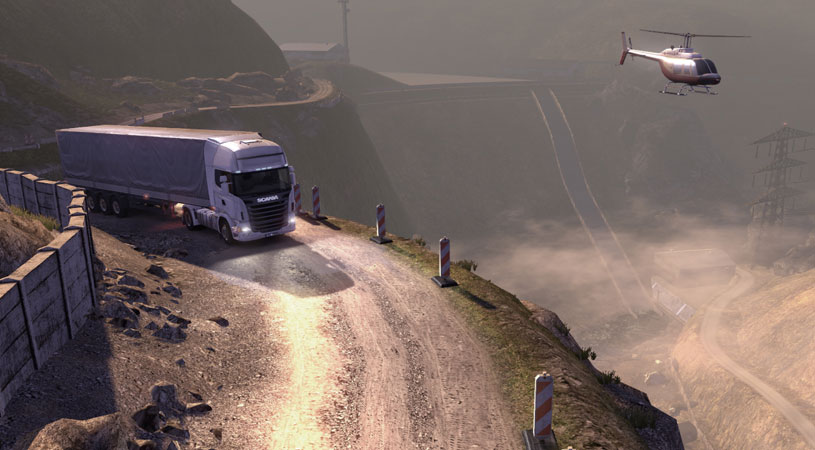 If perilous driving is just not enough, then Scania Truck Driving Simulator also comes with a freeform driving mode that not only gives you a recreation of the Scania test centre to explore and have a good old truck around in, but also includes what is practically a whole game with the Deliveries option that gives you a small, beautifully intricate town to drive around and make your standard truck sim deliveries around, there's no time limit, no goal, just the open road and a collection of goods warehouses wishing to be moved around.
Then there are the time reactions tests that allow you to experience the age-old shock at how bad your reactions really are, although you won't be mowing down genuine cyclists, pedestrians, dogs and deer the concept is pretty cool, and especially when you are driving at the dead of night in low visibility with rain pouring down by the bucket. The mode suitably puts you on the edge, and you cannot help but feel uneasy, and whilst the set of four reaction tests are not particularly necessary to the Scania experience, they are a nice touch.
As if all that wasn't enough, the true truck fan will be ensnared with the additional gallery and online resources that include the finals of the 2010 Young European Truck Driver competition, information and history on Scania, not to mention a fascinating video on the narrow dangerous roads of Peru, and how they went about recording the sound for Scania Truck Driving Simulator to make the upmost realistic representation of the licensed trucks.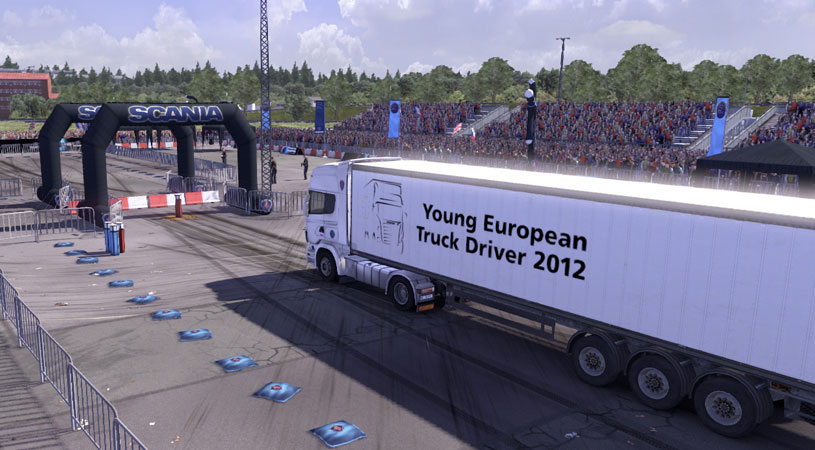 If you think back to the biggest Truck simulators of the last 10 years, with titles like the 18 Wheels of Steel Series and original Euro Truck Simulator, things have changed, and Scania Truck Driving Simulator is not just an adequate trucking simulation it is a fully realised experience with fantastic graphics that are extremely well optimised for low-spec PC's, a full day/night cycle, and a weather system to rival Bus & Cable Car Simulator, simply put this game is exquisite.
Simulators are online, and slowly but surely, many developers are embracing the competitive tradition of gaming, and bringing it together to the casual and laidback style of the simulator, in Scania this marriage of styles gives us a comprehensive scoring system based on your achievements in the game, that are displayed on competitive leader boards that will track every players triumphs with a truly amazing replay system that allows you to study the no.1's techniques and have a little giggle at the expense of the Englishman at bottom of the leader board, and all at the drop of a hat, no buffer times, and practically no load times whatsoever.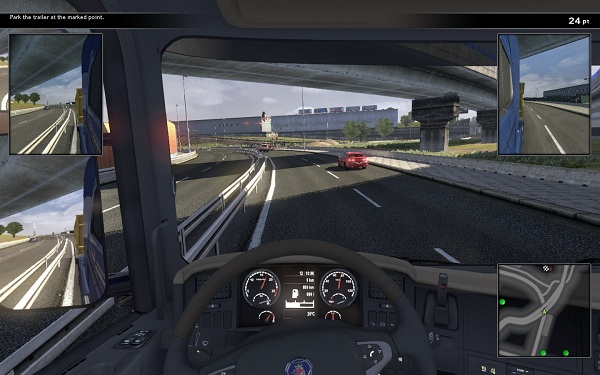 Scania Truck Driving Simulator is like 3 whole games rolled into one, whilst it is not the Euro Truck Simulator 2 that many truck fans have been waiting for, the arcade style Trucks and Trailers aspects, the fantastically intense dangerous drives and the freeform open town that allows you to make deliveries gives you more than enough to sink your teeth into.
Many truck fans will see Scania as another filler title from Czech SCS Software as we await the release of Truck Simulator 2 which unfortunately keeps getting put back, however Scania goes to show just what we can expect from the latest in THE truck simulator series, simply put, we are pretty damn excited!
Scania Truck Driving Simulator - The Game is without a doubt one of the most beautiful and intense truck driving games ever, with a perfect mix of proper edge-of-your-seat driving and the competition of the arcade challenges the game is brought to perfection with the small open world deliveries. Better yet, thanks to the high drama of the dangerous drives, there's the scope for gamers from any walk of life to double take on the tremendous heights that SCS Software have reached.

Scania Truck Driving Simulator - The Game is available now in all good retailers for the amazingly low price of £19.99, if you are waiting for Truck Simulator 2 or just love simulators, then this is one of the best vehicular sims you will play this year!