Driving Simulator is a series, which I myself have never really rated, it tries to be the jack of all trades of vehicular simulators, which generally ends with an unrefined collection of simulators. This year, developers Light Rock Entertainment have pushed out the boat and the compendium contains a plethora of popular vehicular sims in the form of missions that cover the likes of breakdown services, bus driving, making deliveries, police chases, ambulance runs and circuit racing as well as the more obscure caravan driving, off road racing, and street racing to add a bit more of a fast pace to the mix.
The missions make up 80% of the game this time round with one fantastic addition; for those of you that missed the fabulously addictive boat that was Tow truck Simulator two years ago fret not, because the developers behind it were Light Rock Entertainment! So hidden amongst all of the various 'missions' of Driving Simulator is practically a whole game allowing you to take control of a breakdown van and patrol around town helping out stranded drivers whilst adhering to the rules of the road.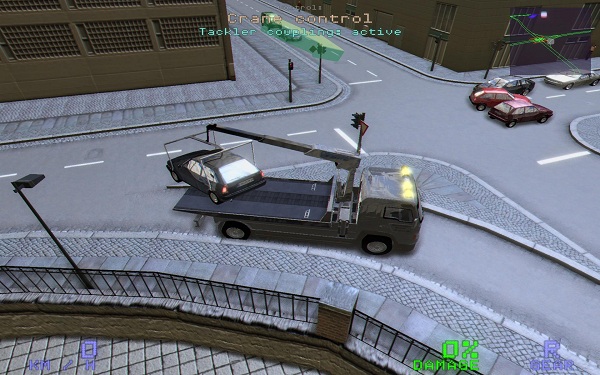 Driving Simulator is not simply constructed of the more traditional PC simulations, and comes packed full of racing simulations, however do not go confusing these with the likes of Forza or Gran Turismo, a good PC vehicular simulator usually consists of the vehicles you'll never get to drive without a complete career change, and with a whole host of racing simulators out there already, it is a little confusing why Driving Simulator 2012 would contend with them.
With circuit racing making another appearance, joining it are the additional off-road racing, and street racing, now don't go getting excited, if you played Driving Simulator 2011, then you'll remember that the circuit racing wasn't so much as racing, as just setting the fastest time on a track, and that's pretty much what you'll be doing in all three modes; trying to set the best time from point a to point b.
What is possibly the most surprising addition to the game is the missions for the Caravan; a vehicle sorely underused in simulators, and it actually makes for an enjoyable change from your standard affairs, better yet the caravan missions include a really handy highlight on the mini map to indicate which road you should be taking, a lot more useful than the stand GTA arrow pointer that Light Rock's games use.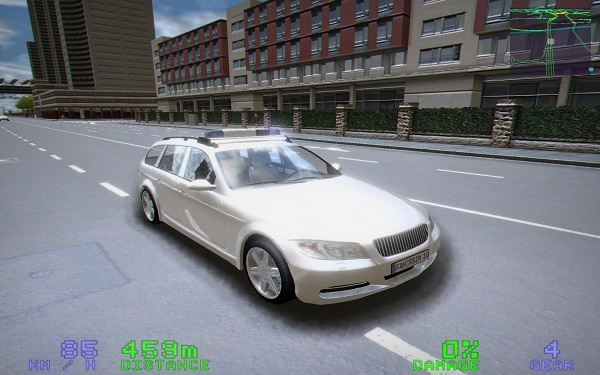 Once again Driving Simulator allows you to take on the role as a Policeman, Ambulance driver and Delivery man with pretty much unlimited missions, as a policeman you'll be on the lookout for speeders to chase down, and a delivery man must race to the clock to deliver parcels around the town, then there's the return of the grand theft auto style ambulance runs as you rush to take patients to the hospital, however on the whole these three have had little changed since 2011.
We're big fans of the bus driving simulator at Gamercast, and we know a lot of our readers are too, so it's with great disappointment that we announce that the bus driving missions in Driving Simulator have not really changed since the last game, and are still not enough reason to purchase the game. The simulation on offer is the most stripped down bus driving experience you've yet to encounter; there are no schedules, not even a timer to stick to for each stop, just the danger of losing the mission if you make too many mistakes or damage your bus beyond recognition.
However, Driving Simulator never used to be about the missions, and has always been about the free play options on offer, once again you can unlock new vehicles for free play if you do well in the missions, the town areas are bigger than before, and if you do enjoy a nice spot of casual driving, then Driving Simulator 2012 is still the best game for it.
As usual Driving Simulator is more about the simulation of the driving more than an importance on your ability to drive, so as usual there's a massive list of steering wheels supported, as well as gamepads, or if you're traditional like me then stick to a mouse and keyboard and try and adhere to the rules of the road least you find yourself heavily penalised.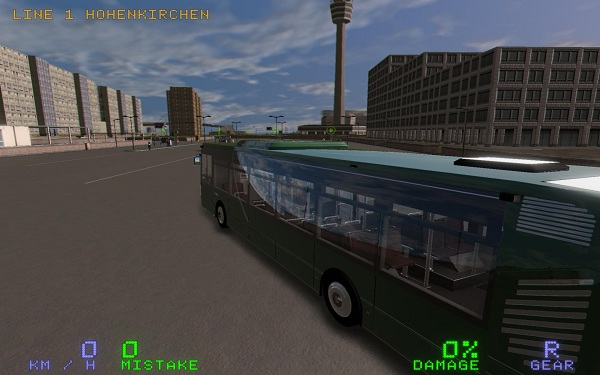 A feature of Driving Simulator 2012 is a new dynamic lighting system that changes throughout the 'day', this is a brilliant feature that most simulators are adopting, however Light Rock fall short with their implementation. Whilst it is lovely to see the orange hues of a setting sun, this would be the standard time to turn your headlights on, however the headlights seem to be just present for show, and serve no illuminating purpose leaving you with a dusky town where you are unable to see a thing.
Overall, as usual Driving Simulator 2012 makes a decent impression on the vehicular simulator compilation, it is just a shame that there wasn't a little more polish on everything, if you want a game that allows you to be a bus driver, ambulance driver, policeman and a selection of racing drivers then Driving Simulator is a good starting point, just don't expect anything to knock your socks off.

Driving Simulator 2012 is available now in all good stores and online retailers for the SRP of £24.99, it's not a bad game, and in all honesty it's worth it alone for Tow Truck Simulator.