When looking at simulator games on the market you wouldn't usually expect one to be made using the Unreal 3 Engine, of course with a wider variety of games using the engine, like the recent Adam's Venture games as well as Zumba Fitness, as not everything is about big guys with big guns. Not many games of the racing genre take advantage of Epic's engine but that's exactly what 1C have done with Off-Road Drive.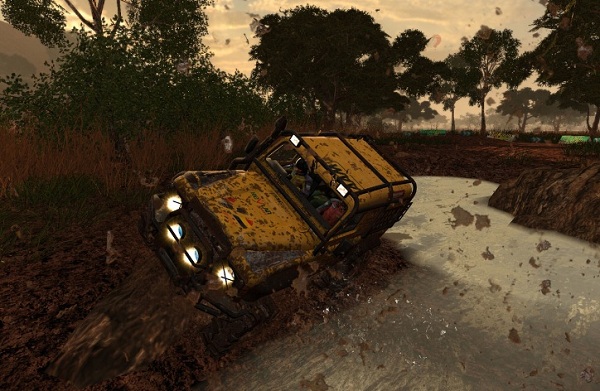 You may have played Off-Road style games in the past on the SNES or Nintendo Wii but you'll find this one quite different as it is quite the simulator, you'll find no simple arcade frolicking is allowed in this harsh realistic simulation, forcing you into the severe toughness of driving in bad, boggy off-road conditions.
In total there are six exotic locations for you to drive around, including Thailand, Africa and the USA, all vastly different from the next and each having their own climates. As well as a variety of locations to race in you also have a nice array of vehicles that you can gradually unlock, starting off with the basic and cheap looking Samurai, in total there's 20 off-road vehicles including the monstrous Swamper, the sleek Farmer and the lightweight Tarzan. You'll find yourself switching between the more suitable cars depending on the terrain on the tracks. All the vehicles are either based on real prototypes, or are popular choices to use when competing in competitions.
There are of course a lot of simulators out there, but I've only seen a few that visually can compare to Off-Road Drive, 1C really have done their best with using the Unreal 3 Engine's potential by making a refined simulation that features all the visual keys that you might expect from off-road driving. From mud flinging on your vehicle, water and mud moving from the tires of your truck. It really makes it feel like a proper simulation, giving you just what you'd expect for if you were doing the real thing.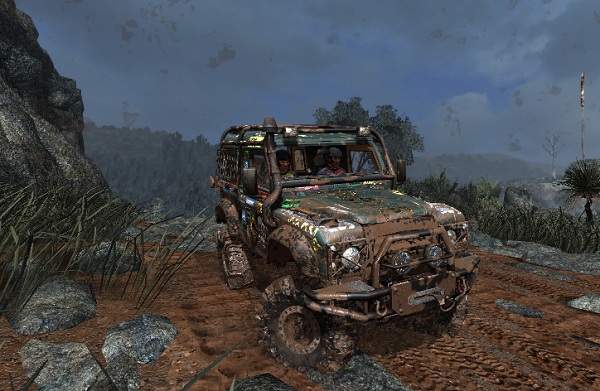 Each location features multiple races which are then made up of three individual tracks which you must complete before your opponents who are completing the track in their own time. So you have to make sure to grasp the controls fairly quickly to make sure to not come last all the time, but if you have a little difficulty you can always play through the tutorial a few times to make sure you remember the controls. Overall there are 42 unique tracks for you to play through giving you lots of variations of quick sand, rocks, swamps and more.
For those unaware of all the intricacies of off-road driving there are in-depth tutorials that can be played out on the test track, allowing you try and get the hang of the game. At first I found it fairly tricky to get used to the controls, having myself get stuck in the mud or almost flying off the course most of the time. As you don't only control the speed and direction of the vehicle. You have to lock the individual gears of the car to get through the right terrain; allowing you to go fast over straight roads or manoeuvre over the bumpiest of land. As well as the trickiness of using your winch to pull yourself out of a sticky situation, which is a lot harder to do than you'd think as you can snap it quite easily. You can also shift to a lower gear or even adjust the tire pressure allow yourself to move easier over rough surfaces and through water.
The campaign in Off-Road Drive is fairly linear and as with other racing games you need to unlock all the later races by gaining points from the tracks you have unlocked. Sadly there isn't a free-roam portion of the game which would fit the game really well if you just had a randomly generated track to drive along.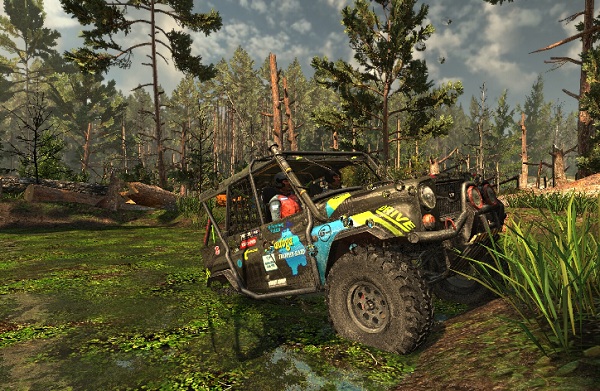 Controller wise you may not be able to fully remember the button commands on a keyboard straight away, but you can share the controller layout with an Xbox 360 wired gamepad, or a variety of steering wheels which include the Viper Pro and Logitech G25. Although the keyboard commands are in a few locations over the keyboard after a while you'll get the hang of it, and if you don't you can always consult the controls screen, or map them to something a little easier to remember, especially if you prefer WASD over arrow keys.
Off-Road definitely has the looks but really takes a little knowledge of hydraulics and large vehicles in order to let you fully enjoy the experience 1C have provided you with. However with a few problems getting through some levels early on I really enjoyed the globules of mud and affect that the vehicles have on the environment, it's extremely satisfying.

You can purchase Off-Road drive on Windows for between £10-15 off online stores, or you could always pick up a copy in your local game store.