Dead Island is out today and we thought we'd do a run down on the best collector's editions that are available for this long awaited game from Techland.
All of these collector's editions are country specific but that's why we have eBay and international shipping, although not all websites will ship internationally of course, and some editions aren't available on websites and may have sold out months ago.
Dead Island Limited Treasure edition
The Limited Treasure Edition of Dead Island is packed inside a handmade wooden "Treasure Box" which is unique and numbered. It contains the following: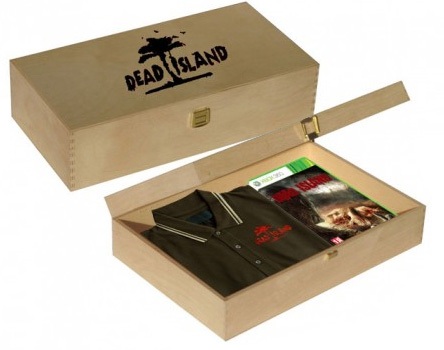 Packed in a lavishly designed, handmade wooden "Treasure Box" including unique Dead Island Branding
High quality Polo- Shirt in Dead Island Design
Each copy numbered, certificate of authenticity included
The Zombie Survival Guide: Recorded Attacks, comic book by the famous Max Brooks, 144 pages (German)
Exclusive set of postcards
Exclusive Downloadable content
The Treasure Edition is an Austrian exclusive and is only available on game4game.at
Dead Island Red Edition
The Red Edition of Dead Island comes packaged within a steelcase and contains loads of goodies: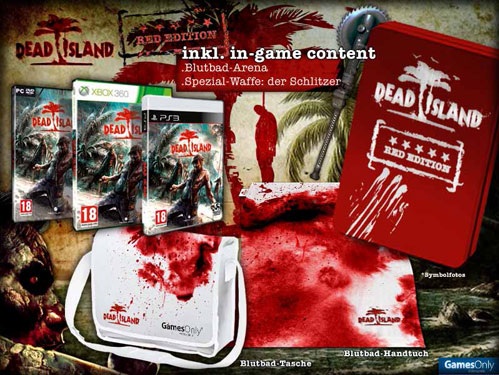 Bloodbath messenger bag
Bloodbath Beach towel
Bloodbath arena DLC
Extra weapon: Sonic pulse grenade
Extra weapon: the Ripper — a deadly combination of a baseball bat and chainsaw

Plus if you pre-ordered this edition you can look forward to the following extras:

Key chain
Peppermint tin
Dead Island Artwork Poster
The Red edition is an Austrain exclusive and can only be bought via gamesonly.at
Finally the one Polish edition (Techland are Polish) which I'm sure Poland doesn't get many of.
Dead Island Gore Edition/Survival Kit
This edition comes within a large box made especially for this edition, it includes the following:
Dead Island version of Gore Edition
Stylized pack Gore Edition
Soundtrack
"Fan Kit" DVD
Lanyard
Door hanger
Skylights rescue (neon sticks)
Adventure First Aid Kit
Whistle
Compass
Thermometer
Magnifying glass
Multi-function pocket knife
Binoculars
Flashlight
Re-usable bottle
Small bag
Double-sided poster
Polo shirt
DLC Blood Bath Arena
DLC Weapon: Ripper
Brain Wave Bomb DLC
The Gore edition was available to purchase through wirtualnypunkt.pl although they seem to have sold out, ebay is your best friend in this case, until the user has sold their last few PC copies. There were a few other Polish websites selling this edition but all that I looked at seemed to be out of stock.
All the versions I've listed are available on all platforms; Xbox 360, Playstation 3 and for Windows, it may be harder to track down console versions though as they tend to sell out first.
As well as the collector's editions that I've listed there were also versions with Turtle Beach Headsets, a different type of bag and a different t-shirt. I've pre-ordered the Gore edition myself, will you be picking up Dead Island today? Or perhaps in the future?