We always like something that's a bit different, and trains on the Xbox 360 may well fit under that category, what's even more surprising is it's not a fully blown release, but an Xbox Indie title that was a finalist in this years' Indie Summer of Uprising.
Train Frontier Express isn't so much of a train simulator, but more of a model train simulator; most of your time in the game will undoubtedly be spent in the fantastically simple creator that is perfect for a young child, or a train enthusiast, heck if you just like playing around with creator's this one won't cost you much more than £2.
In Builder mode you are presented with a blank slate as a starting point for your layout. From here you can place track for your trains, position props or alter the terrain in the way you see fit. The simplest game to compare the creator to is LittleBigPlanet; similarly you have a thermometer that keeps track of your layout, and all of the menus are very straightforward. So it's easy to work out how to access everything available for you, and placing an object is about as effortless as it gets.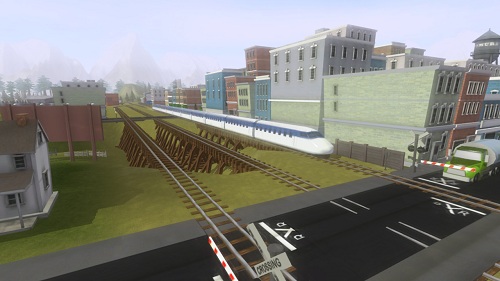 What's best about the creator is that there is no need for complex tutorials, because everything you will want to use is in plain sight, and all that you'll need to know is onscreen, including the controls for every aspect of the game, it couldn't be more convenient.
Everyone that loves to create things knows that it's not the practical adjustments like terrain and track, but it's the extra bits and the resources that are the most fun to use in a creator. With around 140 props including cars, signs, roads, buildings, trees and rocks, you've plenty selection for a standard track layout. The only downside to the extensive selection of objects is unfortunately all 140 are to be found in the same slider menu, so in order to find the prop you are looking for you've no choice but to scroll through every single prop to find the one you want.
Now the most important aspect of Build mode is the track layer, track laying is achieved easily, however it is very important to pay attention to what you are placing. Pieces of track can be laid in 45 degree angles at most, however with an endless supply of track you can make anything from a single track with a couple of points to a fully blown train yard. If you want your track to go over water, go right ahead, maybe you want a steep incline; might as well give it a go, if anything the only limitation with the track laying is the angles that you can place it.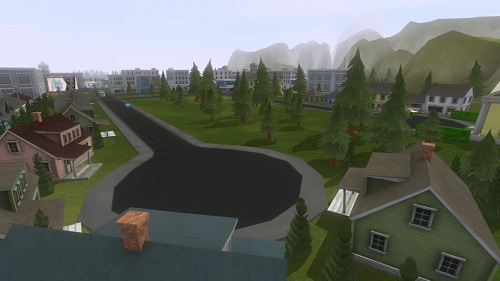 You can't just place props and track for an interesting layout, for a more interesting track you'll need to edit your terrain; thankfully you've got a multitude of terrain manipulation tools much like Sim City, allowing you to flatten, raise and lower any point of your map. Alongside this you've also got plenty of variation with four different types of terrain including sand, grass, dirt and snow, so you can make an isolated desert-scape or perhaps a snowy mountain-top resort. The only little niggle with your options in regards to terrain is that you cannot just place water, instead you are required to lower terrain below sea level.
The second mode to the game is Conductor Mode that allows you ride around your newly laid track with a choice of five locomotives, and pages of stock allowing you to ride with up to 10 carriages. Now you aren't limited to just sitting in the locomotive; there are a variety of camera modes that allow you to watch the journey from a passenger coach, as a pedestrian walking by, with a flying camera or from the helm of the train; practically every possible angle is covered that you want.
Throughout Conductor Mode you have control of your train with what is the simplest train driving controls ever and are very similar to the way you would control a model train set. After having spent so much time building your layout, the Conductor mode is a brilliant way of enjoying the captivating sensation of watching model trains.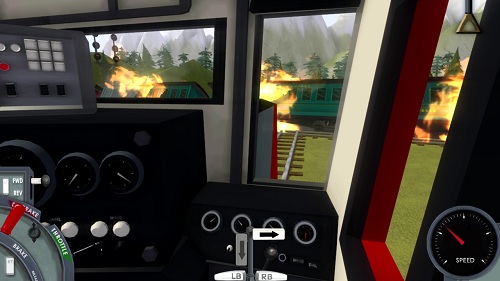 Whilst there are no objectives or goals in the game there are a number of 'badges' to take the hollow place of achievements that Indie games do not have the pleasure of, these give you transparent goals such as making an oasis, a snowy village or spending a lot of time conducting.
The derailing system is the most unique point in the game that separates it from all other games that contain trains, because there is fire involved! Much like a model trainset, you'll find your train derailing a lot at times, whether you intentionally lay track that ends above a ravine, or you don't properly connect your points up you will occasionally find your train falling over and catching fire. To be fair, it is a lot of fun, if frustrating at times, and whilst the flames are not spectacular, they bring true maniacal sadism to an otherwise bright and colourful game.
It has to be said that the UI is beautiful, and the colours are bright and reminiscent of Team Fortress 2, this is not your standard ultra-realistic train title full of dull grey and brown palettes. Train Frontier is bold and beautifully simplistic in every way possible; from driving a train, joining an online game, even creating your own little town, there's no reason for you to ever get dumfounded in this game.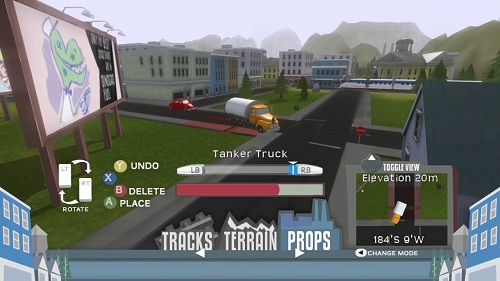 The multiplayer aspect is fairly straightforward, and you are able to able to host or join public or private maps, however the best aspect of the multiplayer is that it is a way to share your layouts, or find new ones; by joining a public session, you can save the layout and keep it as your own; which is good when you aren't the best creator. Unfortunately people were a bit scared of us when we joined their maps, and they tended to leave shortly after, but who needs strangers when you have friends eh?
Train Frontier Express is not a game for everyone, if you love trains, creating little scenes, or simply yearned for a model layout of your own when you were a child, then what are you waiting for? With a simple creator and fun graphics there's no other game as unique as Train Frontier Express on the Indie Marketplace.

Train Frontier Express is available now on the Xbox Indie Marketplace for the low-low price of 240 Microsoft Points; the equivalent of just over £2; a fraction of the cost of a real model train set, let alone the fantastic scenery. If you are a fan of train simulators, and want an innocent train building game for yourself or a child, you've no better game than Train Frontier Express.
Whilst there are a few little niggling bugs in the game, Team Train Frontier are currently finishing off an update that will be rolling out soon!