Garden Simulator is the latest fruition from Excalibur Publishing and Astragon, although it may not have farm in the title, Garden Simulator has very close ties to farming simulators such as Harvest Moon or Farming Simulator Gold, however unlike Harvest Moon, Garden Simulator lacks heart, with no real goal in the game but to make a garden worthy of your time.
The gameplay in Garden Simulator is fairly simple, in a similar Harvest Moon square system you pick up tools from your shed –unfortunately only one at a time- and use them in your garden; raking weeds, then shovelling earth, before sowing seeds, watering, fertilising and finally cultivating them, whilst maintaining the curiously addictive nature of Harvest Moon. The use of tools is effective and straightforward just like it should be, however rather than a cute little anime character; you take on the role of a rather sprightly old man, who is unfortunately never introduced to us.
To introduce to you the game, Garden Simulator is made up of 10 missions that will teach you all of the essentials such as mowing the lawn, growing vegetables and trees, selling your crop, and even cultivating flowers. All of the missions prepare you for free play when you are left to your own guiles, the only real thing that isn't covered in the missions to get you going is how to deal with pests effectively, as you will come across them a lot in free play. It is somewhat of a shame that they are called missions as they are basically taking the role of tutorials, each missions ends abruptly when you complete it and there are no real bulky missions present other than a select couple that ask you to earn a certain amount of money.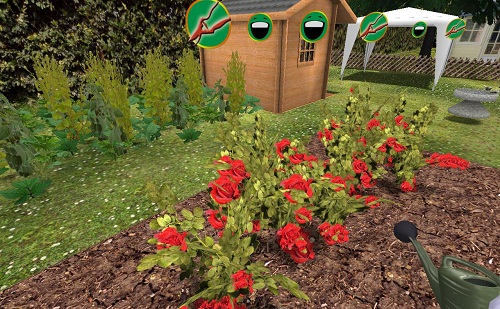 The only real problem that seems to arise from Garden Simulator is their simulation of time, rather than work in real time like some games, or even give you the control of time ala SimCity style, Garden Simulator's time scale is extremely fast; obviously so that your plants will grow. However it gets to the point that you are unable to plant a lot of different vegetables/fruits or plants because before you know it they are already half grown and need water, this is a real downfall of an otherwise enjoyable game, and it makes gardening feel far less relaxed as it should do.
The nature of Free Play is exactly what a gardening sim needs, allowing you all the time in the world to tend to your garden, beginning with a humble shovel and £1000 you can design a garden that your mother would be proud of. Utilising over 40 tools you can make a pebbled paradise, or a gardeners dream, whether you want a garden full of gnomes, or full of pansies the world's your oyster. But beware, in free play you lay hazard to bad weather conditions, and a variety of different pests, including moles, voles, snails and a multitude of bugs. The Free Play mode is where Garden Simulator really kicks off and not before long you'll find yourself caught up in the frenzy to either, a. make as much money as possible, or b. make a beautiful garden.
Garden Simulator does seem to be missing a bit of sparkle, it may be in the humble graphics that the game flaunts, which doesn't usually detract from the quality of a simulator. Perhaps it is the no frills exterior of what is practically Harvest Moon for the PC, it is enjoyable, but without the care of animals and neighbourly interaction it will never quite be the game that you want it to be.
Garden Simulator is simulator that means well but doesn't succeed so well in its execution, it may be no Harvest Moon, but it is still a fairly effective gardening simulation, especially with the inclusion of natural pests, something no gardening or farming simulation has ever done before, especially to the tune of the Sugar Plum Fairy.

Garden Simulator is available now in all good stores exclusively for Windows with an SRP of £24.99.