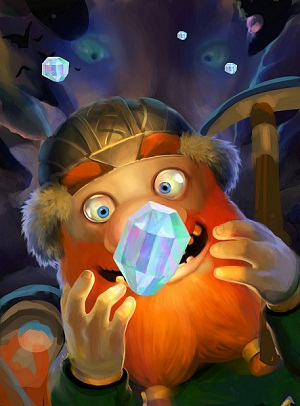 After showing off a new trailer for Paradox's upcoming and recently announced Impire, the publishers have not failed to show a little something off for the game's friendlier sister title; A Game of Dwarves that combines a little bit of the cult Dwarf Fortress, and the even cult-er Dungeon Keeper, the result is a cute, addictive and engaging strategy game, so why don't you check out the new Gamescom gameplay trailer.

" frameborder="0" allowfullscreen>ou've not been keeping up with the dev diaries and the Paradox TwitchTV streams that have been covering the game, then the trailer nicely sums up the core mechanics of A Game of Dwarves, however if you have been keeping up with all of the bits and pieces Paradox have been feeding to fans eagerly awaiting the game, there sadly isn't very much that is new in this trailer.

In A Game of Dwarves, players take on the role of a dwarven prince who is charged with managing a colony of bearded fellows as they collect resources and gold, conduct research to aid with digging and building, and level up the masses to become powerful warriors, or master craftsmen. Building your settlement up is the aim in this strategic game that will see you fending off creatures that invade your dwarven fortress.

Unfortunately A Game of Dwarves still does not have a confirmed release date, but it is coming soon to a PC near you!