I must confess I have a bit of an addiction, that addiction is to tycoon strategy games. Thanks to the humble PC, I, like many others can feed this addiction, so I was pleased as punch when Excalibur Publishing announced their upcoming strategy Farming Manager, which instantly reminded me of Farming Giant a similar game that I got addicted to around the same time last year! Can it outdo Farming Giant and succeed as the best farming tycoon around, well, you'll just have to have a see.
Tycoon management games aren't always the easiest to get yourself settled into, which is where Farming Manager excels, not only because it has a comprehensive and pleasantly straightforward tutorial, but it's the second game I've had the pleasure of playing that features a Welsh individual, and there's nothing better than a kind old bearded Welshmen to explain the farming business to you. Don't got getting your hopes up however, the game itself is not set in the rolling valleys, but instead Germany, nevertheless your Welsh friend will ease you into the tasks of a farm manager before throwing you into the deep end, better yet you never once feel confused or as though something has not been explained to you properly in the tasks it sets you, which is quite a feat for the type of tutorials you might be used to in similar games.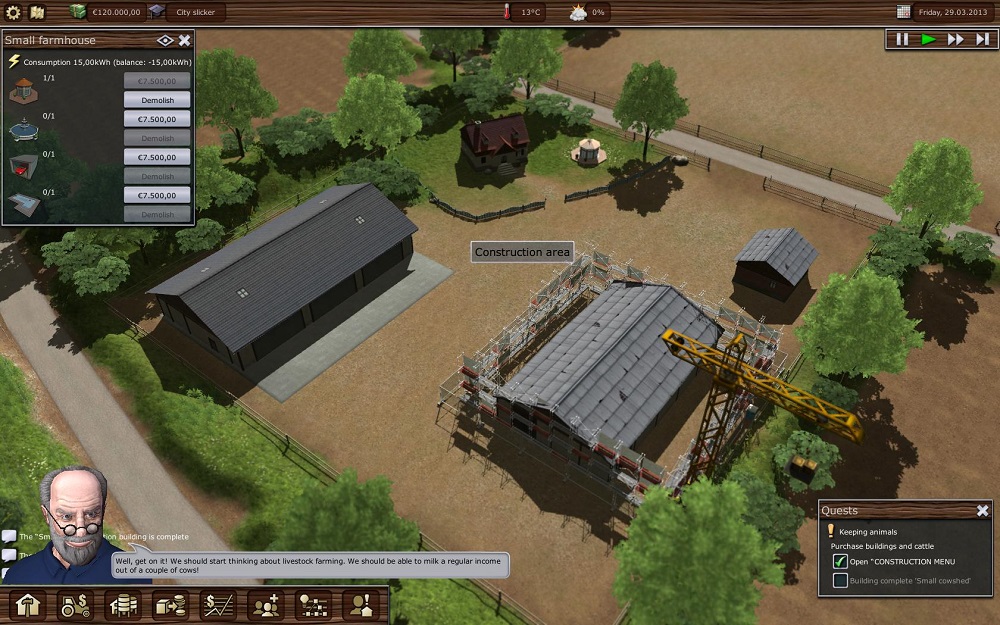 However if you aren't one for being told what to do and you prefer a bit of creative freedom you're more than welcome to enter the free play aspect of the game, though I wouldn't really recommend it until you get into the swing of farming, as the only bonus of freeplay mode is the ability to spend your money on larger buildings from the very start, and a full wealth of vehicles ready to sit in you garages, it's a bit overrated to be fair when the career mode doesn't truly limit you in the traditional sense.
Everyone knows that one person can't run a farm by themselves, you yourself play the role of, surprisingly enough the Farm Manager, which will see you hiring and firing employees to do the dirty work on your land which includes vehicle maintenance, general field work and rearing animals, these three simple skills are all you need lookout for on the job market and whilst you'll never track down the perfect employee, it's not difficult to find three shining individuals to do your required work, that is until they start complaining, getting in bad moods and demanding more money, though I suppose you could just fire and rehire, it really depends on if you like the look of their strangely illustrated avatar.
Farming Manager takes the approach of making crops the be-all-and-end-all of the game and to get the most out of your time it makes you run through pretty much all the motions when tending to your valuable resources. So before you so much as take your seeds to sow, a field must be ploughed, prepared for seeding and then sown, it's then the case of nurturing the growth of your crop with necessary fertilisation methods before you harvest, cut the straw and bale it together before you can start anew, each field will get around two crop cycles a year, unless you've a fleet of vehicles.
Whether it's Rye, Wheat, Barley, Corn, Oats or even Silage you'll have to abide by the seasons when sowing your seed, don't worry the game won't allow you to do wrong, but it's great to find an agricultural game ruled by the seasons, and indeed the weather, don't expect to be able to bale straw up when it's raining, or perform any acts on frozen ground, in fact the weather affects a lot of things, except for your vehicles! As if the weather wasn't big enough of a problem, hindrances like weeds or pests can break out in your fields at random that can cause disastrous problems with your crop if they are not dealt with sharpish.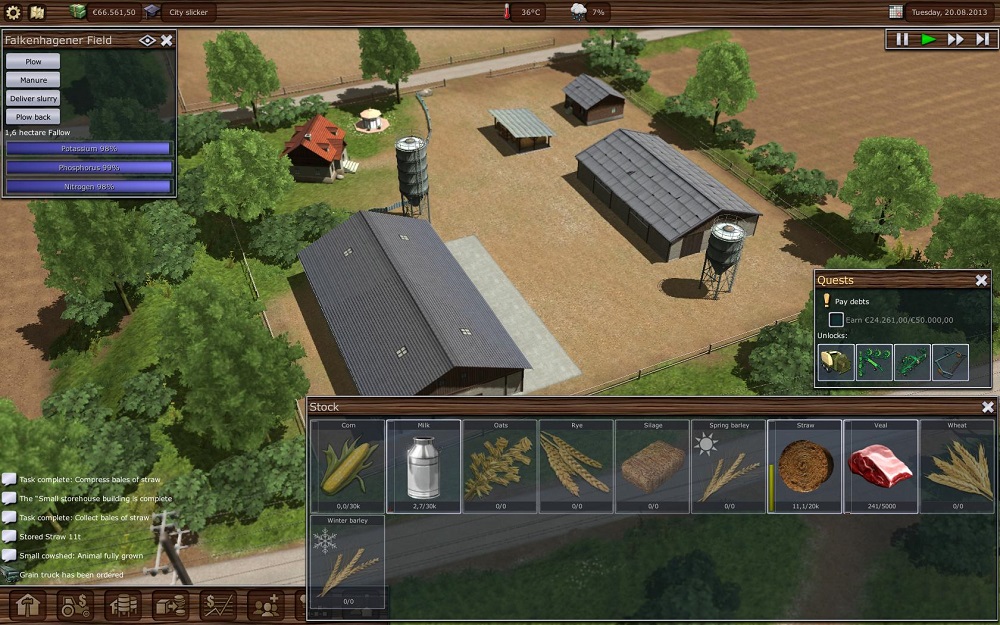 So you've gone and harvested your crop whilst it's still in season, what now?! Like all good strategy's that rely on resources, Farming Manager works off a trade market, it's not quite as effective as some trading elements in similar games though, as there's only really the one seller, you won't find yourself selling to certain towns or individuals for higher or lower prices, instead you'll find yourself just waiting for the price of Winter Barley to shoot up in the high summer. Granted there is also the ability to accept offers from desperate individuals that need a certain amount of resources by a very specific date, though personally I could never get them to take my goods.
If crops aren't your thing Farming Manager does also allows you to deal in livestock… well cows. On your farm you can build a variety of cowsheds where you can rear cows for milk and keep a constant supply of the little beefs whilst ensuring that they continue to produce milk, unfortunately that's as far as livestock trade goes in the game, which is a shame as the management of them does help to break up the monotony of crop farming, and nothing is quite so heart-breaking as giving the say to slaughter little Carsten and sell him off as veal when it reaches a high price in the market.
A really nice feature of Farming Manager which may attract fans of Farming Simulator is a focus on vehicles and farming equipment, whilst you won't be choosing between a Case IH or a Lizard you will need to have the garage space to buy what you need, unless you decide to rent everything at an extortionate price…we thought as much. In fact if you're a fan of saving the pennies, Farming Manager includes a fantastic vehicle market that allows you to purchase new and used machinery; there is quite a difference between the two however.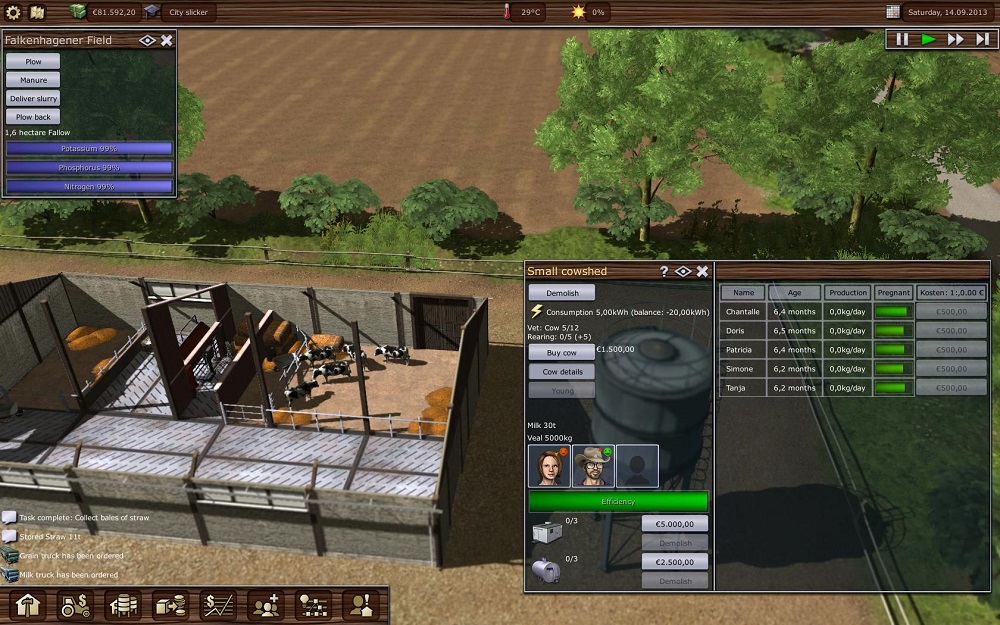 When you're buying farming equipment from the used market place we aren't just talking the need for a new lick of paint, in Farming Manager Vehicles come with two stats, reliability and condition, it's easy to keep the condition of a vehicle or machinery part up to scratch, all you need is a good mechanic, but through the years your goods will take a beating and their reliability will suffer, and it's inevitable unfortunately that one day your machines will die, but it adds a great element to the overall strategy of the game, not to mention the fun of Tetris-ing all your vehicles into one garage.
The game itself is pretty solid, if a little repetitive, well that is until dynamic events come into play, where the enjoyment pretty much sails downhill, now this isn't to say that dynamic events are not fun, when they are gauged off your current success or choices they can be one of the most effective mechanics in a game, except that is, when they are unprovoked. Let's just say as a fairly tight pocketed individual it was not appreciated when in the space of a year I had apparently lost around 70,000 in gambling debts, 40,000 in taxes that cropped up and 600 per cow because of an apparent misbranding, you won't always get bad events however, but in the long run you'll find yourself losing far too much money to bad misfortune, which is most definitely not what you want in a game based solely around your ability to manage everything down to a tee.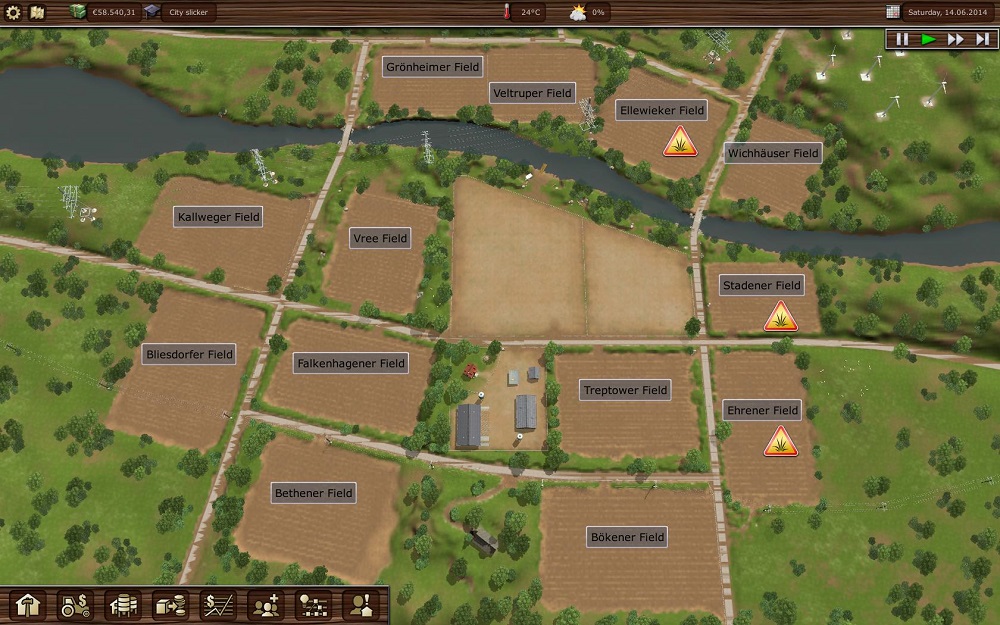 Farming Manager is a great addition to the tycoon strategy world, however there's simply too little variety to keep your eyes pinned to the screen, and after making the biggest darn farm in the game world there's just no room for expansion, you just sort of keep going, whilst this may serve as a clever analogy for the monotony of farming management, many will find that their farm just can't evolve and grow the way they want it to, though the game does have one of the most realistic bird calls I've heard in a very long time!

Farming Manager is available now from all good retailers that still stock PC titles for the SRP of £19.99, alternatively you can order it from Excalibur Publishing directly.