Forget Farming Simulator's 'open island' farming, forget the unadulterated fun of Demolition Company, TML Studios have set the true benchmark of vehicular based simulators, and they've only gone and done in a true authentic open world setting; and no better than in the streets of San Francisco. So get ready to hit the streets of The City by the Bay in one of the most detailed and sophisticated bus simulators out there.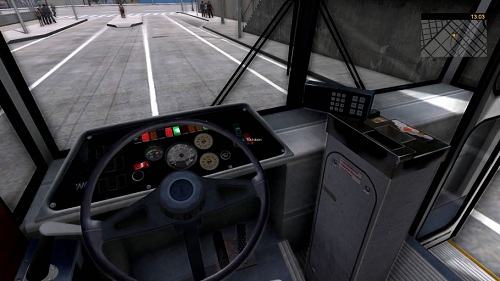 You begin your humble career with a simple diesel bus and all the ambitions in the world. A visit to the Exhibit Hall will present you with your overall goals; owning all of the unique unlockable vehicles, including the School Bus, Sightseeing Bus, Trolley Bus, Cable Car and Bendy Diesel Bus. Each vehicle isn't just a shiny new model to perform your bus route in; they all have their own unique bus routes across the city of San Francisco. To top it off, each new vehicle can be unlocked via two means; a lot of cash, or a couple of rewards.
Rewards are the game's unique achievements system that can reward you with money, and allows you to unlock new vehicles without having to part with wads of cash. Rewards come both positively and negatively; positive rewards will get you vehicles, whereas negative rewards will hinder your chances. You can receive rewards from simple accomplishments like being extra friendly to your passengers, or seeing all of the sights in San Francisco, negative rewards will be branded onto you through bad driving, sloppy service, and leaving potential passengers behind.
The rewards system is a fantastic addition to Bus and Cable Car Simulator which makes it more of a game and less of a simulator, marrying the two in a strange deformed entity that is both a rewarding and satisfying way of progressing through the game, its also the most unique system of its kind; drowning in a sea of useless trophy achievements.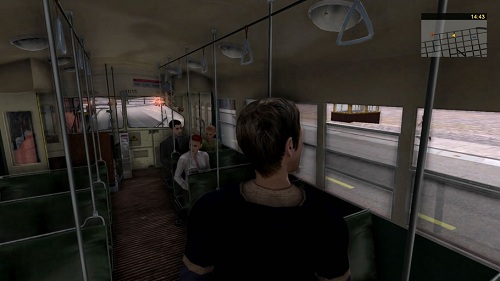 The most remarkable aspect of Bus and Cable Car Simulator is that it is an open world game of sorts; you are free to roam the city of San Francisco, use the public transport, drive to schedules across the city, and even have a nap in your apartment. Whilst this is an amazing step in simulators, it also has its limitations; much like the early 3D Grand Theft Auto games there is little interaction to be had in the city; however the mere possibilities are a fantastic step forward for the lowly regarded simulator genre.
Traffic on the streets of San Francisco is terrible, and with the amount of AI cars set high it'll be almost impossible to keep to schedule with your bus duties. The AI is particularly good for a simulator, and cars will change lanes and actually look like they are headed somewhere. The same can be seen in the pedestrians that will cross roads, amble along the pavement, and step onto AI controlled buses. If your PC can handle it, all AI systems can be populated to the max for an almost living and breathing city. However if you wish for clear streets whilst you carry out your punctual routes, then you might just want to turn cars off.
The aspects that make Bus and Cable Car Simulator different to most sims is that there are just so many details and intricacies present that most would never even touch on. One of the most unique of them all is the fogged windows system, which will see your bus windows huff up as you drive around in the rain unless you turn your ventilation fans on. Then there's the sound design which is all context sensitive depending on if you are inside or outside of a vehicle, and your distance, so if you like the pitter-patter of raining falling whilst you are inside a vehicle, zoom into cockpit view and you are in for a treat.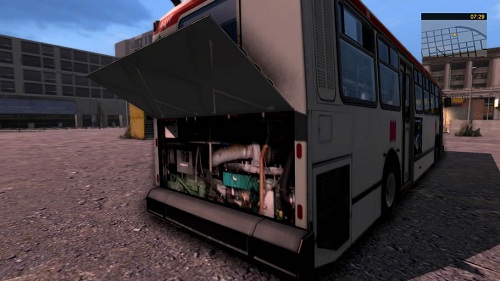 If you are striving for money over rewards then not only can you drive to schedules to earn your keep but there are also a number of extra jobs that you can perform on the side; including maintenance on broken down buses, replacing old timetables at bus stops, bringing fuel to another driver, and even taking over a service. Aside from spending your money on new vehicles and spare parts, there is a wealth of options to waste your money on including a vast array of sunglasses, a less run-down apartment, and new and exciting cars.
Unfortunately to those simulator fans that are hanging onto their old PC's, Bus and Cable Car Simulator really needs a mid to high end PC to really appreciate it, and most importantly of all it needs a good Processor, I warn you now, if you attempt to play this game on a low end PC, you will be playing a mere shadow of the game that you could be playing.
What makes Bus and Cable Car Simulator even better than Grand Theft Auto, Bus Simulator 2 and any other open world game is that you can actually jump aboard an AI driven bus, and be driven around to schedule across TML's constructed San Francisco. In fact you can even get a little sightseeing in whilst you're at it, and visit Fisherman's Wharf, Union Square, The Golden Gate Bridge, and the Transamerica Pyramid to name a few of the locations in game.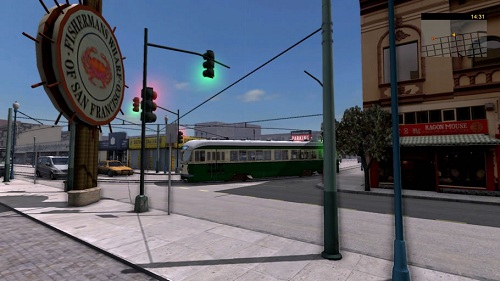 Bus and Cable Car Simulator is not just a pretty face too; containing over 8 classes of vehicle, each of which has its own handling system which ensures that you won't get the same experience from a Cable Car or a Diesel Bus. Not only do they handle different but each vehicle is also highly detailed with their own personal dashboards, buttons, working dials and lights to inform you exactly what your bus is doing whilst you are driving it. However, the real icing on the cake is found in your vehicle maintenance; most vehicles can suffer commonplace faults such as broken fan belts and blown fuses, to fix these you can either call in support from your headquarters, or fix it yourself, and we aren't talking a couple of mouse clicks!
If you liked punching tickets in Bus Simulator 2, then you're going to love the bus interaction required of Bus and Cable Car Simulator. Each passenger will board, say hello –if they're in a good mood- you can say hello back, you then have to type the required money on the cash register for the fare that they owe. But it's not that straightforward, because you've five different fare groups to remember across 3 different lines, and although you cannot alter your fares, there's a lot of variation in the routes that you'll be driving.
There's just so many other features that we haven't even hinted at, like the dynamic weather system that range's from a calm summers day, drizzle or gale-force winds to true torrential rain. Or the unique compressed air system that is as true as possible to the real-world counterparts. Then there's the realtime soiling on your bus, that will get your vehicle dirty over time; requiring a nip into the nearest car wash. Not to mention the factor that your avatar is not superman, and needs to sleep or you'll find yourself nodding off at the wheel. TML have taken so many small concepts into consideration, it is astounding.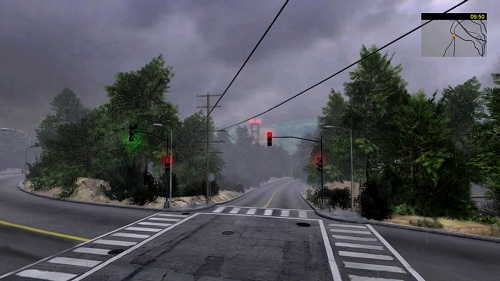 Just like TML Studios' last game; World of Subways London Underground, Bus and Cable Car Simulator San Francisco is a shining example of what they hold important in a simulator; graphics to excel that of most mid budget titles and the intricacy and detail to sustain even the most demanding of simulation fans. Once you've played Bus and Cable Car Simulator, you won't ever look at another second-rate sim in the same way.
If you like your simulators large in scope; practically endless and full of intricate details and obscurities that a true enthusiast will appreciate then Bus and Cable Car Simulator is going to knock your socks off. Fans of Bus Simulator 2, prepare to be blown away.

Bus and Cable Car Simulator San Francisco is available September 9th in all good retailers for the SRP of £24.99, you can currently pre-order it on the Excalibur Publishing website.
Unfortunately, because the game poses such a different game experience on a minimum spec system, I had to give Bus and Cable Car a slightly lower score, however if you do play it on a mid-high end system, then it is most certainly 5/5 material, simulator fans will not know where to begin with this fantastic game, and it is most definitely worth the price tag.