Nintendo know how to celebrate their games in style; Mario's 25th Anniversary saw a limited edition Red Wii, and the beautifully designed DSI XL's, and so far we've had a brilliant 25th Anniversary concert in celebration of Zelda. However Nintendo have just raised the bar yet again with the announcement of the new limited edition Nintendo 3DS system bundle that comes with the timeless The Legend of Zelda: Ocarina of Time 3D.
The fully re-mastered edition of Ocarina of Time 3D comes packaged in an exclusive dual-sided sleeve with the standard sleeve on one side and on the reverse a limited edition golden coloured sleeve that will be available only as part of the Anniversary bundle.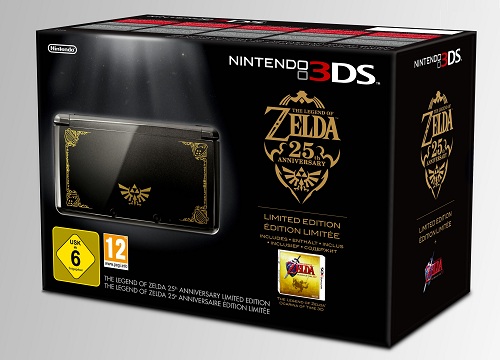 The limited console is marked with the Hyrule emblem and intricate golden-coloured embellishments complete with Ocarina of Time, Zelda fans that have been putting off buying the console now have no excuse! It's just a shame they didn't think of bundling it with Link's other DS adventures; Phantom Hourglass and Spirit Tracks, or perhaps the codes for Link's Awakening or Four Swords. I suppose that would be what the ultimate Zelda fan would be expecting with the system when they receive it on Christmas morning!
The Zelda 25th Anniversary bundles will be available in stores across Europe from November 25th 2011, just in time for Christmas!