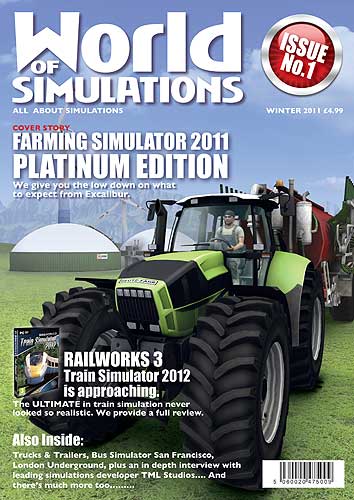 Simulator fans, there is a new opportunity to glean more simulator news! Excalibur Publishing, the Oxford based publisher that brings even the most obscure simulators to the waiting masses has just published their first World of Simulations magazine for Winter of 2011.
This first issue can be requested for free, and includes exclusive simulator news including an in-depth preview of Euro Truck Simulator 2 SCS Software's forthcoming 2012 simulator release, and interview with TML Studios' Thomas Langelotz on London Underground Simulator and Bus & Cable Car San Francisco.
The format of the magazine is not your standard newsagent affair, and is A5 in size and clocks in with 48 pages of simulator-goodness, including a nice simple competition for true simulator aficionado's where you can be in with the chance of winning a Samsung Galaxy Tablet PC. Of course you can't play the latest Farming Simulator on it, but you could browse the Gamercast website for new simulator reviews in the luxury of your bed!
With a magazine full of news, reviews and a little bit from yours truly, World of Simulations is a definite must for simulator fans, and being the only magazine of its kind catering for the niche simulation genre, we cannot wait for Issue 2 to roll on!
You can request the first issue of World of Simulations for free now from their official website.