Robert Stallibrass of Excalibur Publishing says: "Tow Truck Simulator has been a great success on the continent and we are excited to be bringing it to the UK. The developers at Astragon have put an enormous amount of effort into injecting a 3D environment for the gamer to explore streets freely and get to drivers in distress faster. You also have four different models of tow truck to choose from each with a crane and winch to load any type of vehicle."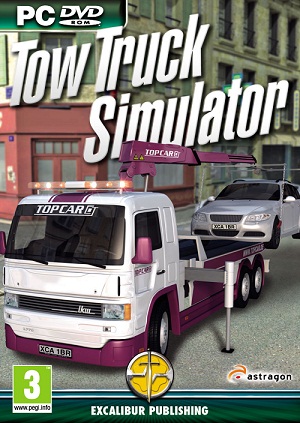 It's the usual moral decision, will you man the rescue truck, or the dreaded tow truck; become the hero of the hour and help out at accidents, or scour the roads for illegally parked cars; but beware, whatever you choose only the fastest and most careful tow truck drivers will go on to expand their business.
With the choice of four different truck models alongside the dynamic generation of missions, and a MOD-friendly system, Tow-Truck Simulator is one Simulator that aims to be quite ambitious and will keep you hooked on it's unforgiving winch. Tow-truck simulator will be available at all major retailers on April 30th 2010, and will retail for an SRP of £19.99. The minimum specifications are quite high for your standard Simulator, so check the system requirements out here before you make a decision.
Watch this space for a review, because we can't wait to get our hands on it!