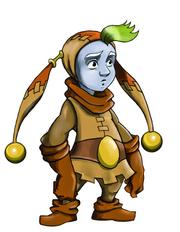 Today marks the release of a classic in the making, not Monster Hunter Tri, or Dead to Rights: Retribution, but The Whispered World, if you didn't catch our impressions of the demo you can check it out here. The Whispered World is the first adventure game for a very long time that takes players on an innocently beautiful journey, reminiscent of such classics as Broken Sword, or Discworld. Accompany Sadwick the young pessimistic clown on his exciting journey that begins with a bad dream, a strange blue creature, and a vision of the world's end. The Whispered World mixes fairy-tale elements with melancholic tones to create a tale of epic proportions.
What makes The Whispered World such an enthralling and magical game is not simply the beautifully hand drawn backgrounds and animations, it is the certain charm that the game has, with characters like your senile Grandfather, or the pair of rock brothers, each entity in the world has its own unique personality, it is a sign of a true adventure game in the making. But of course the real star of the game is Sadwick; whose innocent nasal voice and glum outlook make him an instantly identifiable character, and his pet caterpillar Spot is possibly one of the most adorable, and useful sidekicks to ever step foot in an adventure game.
You can buy The Whispered World from all good retailers, with an SRP of £19.99 for Windows PC, there is no reason not to pick up this visually and emotionally stunning game, expect to see a review soon, we can't keep our hands off it!