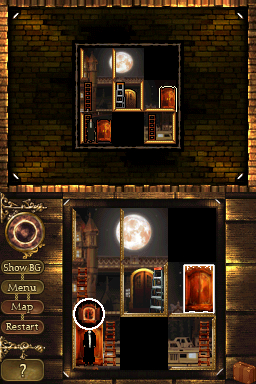 In the same vein as games such as Professor Layton that engage your mind, Rooms: The Main Building is a new puzzle game for the Nintendo DS by Hudson Soft.
Set in a mysterious house called 'Rooms Mansion' you are plunged into a world based around sliding puzzles. In each room you must strategically navigate your character to the exit by sliding sections of the room in the same way a slide puzzle operates, moving from tile to tile you will need to use all of your ingenuity to escape each of the 100 challenging sliding puzzles, with a wide array of items and devices to help you escape the rooms, including teleporting telephones, explosives and water pumps to get to the door that may let you out.
There's also bonuses for perfectionists that end levels with the puzzle pieces in correct arrangement to form the original background image.
Rooms: The Main Building sounds like a very interesting title, and a sure hit for puzzle fans, it is out 21st May for the Nintendo DS, a version is also being developed for the Wii.