Warlords was a classic multiplayer base defence title on the Atari 2600, one that has not seen countless revivals on numerous systems, but has rather stayed itself for 20 years. Atari are finally remaking the classic title for Xbox Live Arcade and Playstation Network. Warlords will be unveiled this weekend at the London MCM Expo where Atari are showcasing both Warlords; the remake of the classic 2600 title, and Dungeons and Dragons Daggerdale.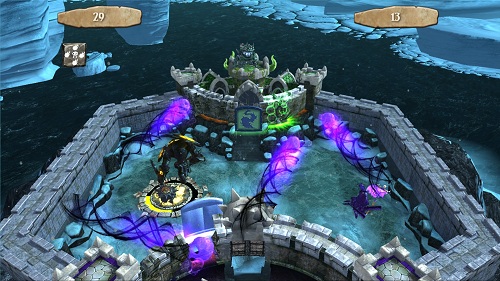 So you never owned a copy of Warlords on your 2600 eh? Well you're in luck because I'm about to tell you about it; Warlords is a 1-4 player arcade action game where you must defend your stronghold from all danger, however this new re-invention of the game puts a bit of a spin on the standard base defence mechanic.
The new Warlords will test your speed, strategy and survival instinct as you multitask striving to shield your castle walls whilst rallying troops to capture control points, collect powerups and destroy warring castles, because the original was obviously too simple.
Warlords will be available Summer 2011, we'll be checking it out at this weekends' MCM Expo, so expect to see our verdict on the looks of it soon, until then you can observe a nice little screenshot.