Excited by the hype of The Legend of Zelda: Skyward Sword? Want to win a copy for free? Do you have a Link costume? If you answered yes to all those questions then you'd be in luck. Because Friday morning GAME are running a launch day event on Oxford Street from 9am.
Nintendo have teamed up with GAME and are giving the first 100 Zelda fans dressed up as Link, free copies of the game, those who aren't sure on a purchase of the game, you will be able to trial it out at purpose-built medieval forest glen's at the GAME on Oxford Street in London, and Gamestation stores in Prospect Centre in Hull or Sauchiehall Street in Glasgow.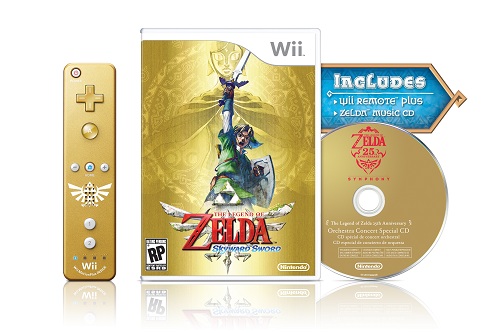 The Legend of Zelda: Skyward Sword lays the foundation for the events of The Legend of Zelda: Ocarina of Time and seamlessly blends intense adventuring and breathtaking exploration in what is being hailed as one of the best Zelda games in a long time.
Skyward Sword is also one of the first games to truly take advantage of Wii MotionPlus with the most realistic sword combat of any game to date on the Wii. With your poor little Nintendo console sat in the corner collecting dust, give it a treat and go to the Oxford Street GAME tomorrow dressed as Link for what will undoubtedly be one of the best games on the Wii for years to come.
The Legend of Zelda: Skyward Sword is released Friday 18th November in all good stores.