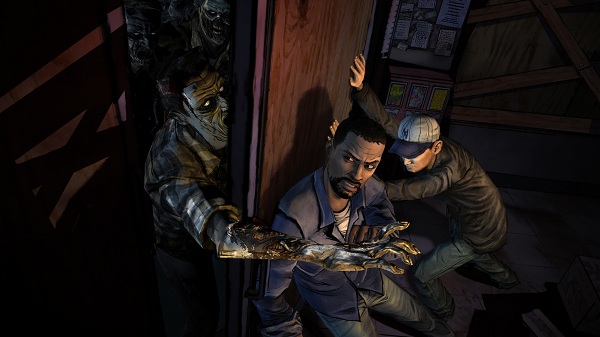 Telltale Games have released the first full trailer for their upcoming adventure title The Walking Dead. The trailer blends 2D and 3D in homage to the original comic book world on which the game is based, and was created by animator and director Daniel M. Kanemoto who had previously created a 'fan made' Walking Dead title sequence.

Whilst it still does not have a date set in stone, The Walking Dead is that much closer with a general aim of a Late April release on the Xbox Live Marketplace for 400 MS Points, PSN for $4.99 and PC, with a season pass available on the Telltale Store.

Telltale are also running a promotion on pre-orders of the season pass from their store, that puts fans in with a chance to appear in episode four of the series as a human survivor who is killed and returns to life as a zombie. In pre-ordering the series you will also get a 10% discount allowing you to get all 5 episodes for $22.49; that's less than £15 for a full series!

Although the trailer doesn't really show us any gameplay, it's got Robert Kirkman's official seal of approval, and the game is truly not far from release. As convicted criminal Lee Everett, your chance for redemption has been given in a world devastated by the undead. Promising a tailored game experience to your actions; your choices and decisions will affect how the story plays out. Incidentally there is a full trailer with gameplay over on Eurogamer.

" frameborder="0" allowfullscreen>tale are also running a promotion where for $20 more the cost of The Walking Dead you can get the 'Almost Everything Pack' which is practically every Telltale Game in existence and The Walking Dead for $42.49! You get Sam & Max Seasons 1-3, Back to the Future, Jurassic Park, Law & Order, Hector: Badge of Carnage, Strong Bad's Cool Game for Attractive People and Puzzle Agent 1 and 2. If you do not own the games already and are purchasing The Walking Dead you would be crazy not to take advantage of the offer!

The Walking Dead is a brand new series from Telltale Games based solely on the comic book universe of Robert Kirkman, and its first episode will be seeing release late April on XBLA, PSN and PC.