Following up for the PSP Minis hit Velocity, developers FuturLab have revealed their next game which is a native Playstation Vita version of Velocity.
Velocity Ultra can be described as a director's cut of Velocity, featuring a completely overhauled art style, sensational visual effects and a general makeover for the whole game to utilise the lovely screen on the Playstation Vita.
As it's being developed exclusively for Playstation Vita, Velocity Ultra also has Trophy support and online leaderboards, something that would have been great for the original, plus it means more Vita owners can add more Trophies to their displays and who knows maybe it'll have a super challenging platinum trophy.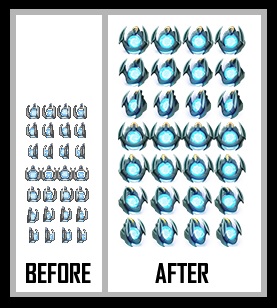 "We couldn't be more excited about Velocity Ultra. We're so grateful to our fans and supporters and we're committed to keeping our reputation nice and shiny with this native PS Vita version of Velocity. I'd also like to mention that we learned a lesson with our double-countdown clock teaser. We won't do that again, though we will continue to tease on a regular basis..."
Also as FuturLab love their fans they're offering them the chance to submit their requests for what they want in the sequel to Velocity, almost confirming that we can expect a sequel. I hope so as I loved the original and can't wait for Ultra to be released a little later this year. If you'd like to tell them what you thought of the original and what you want in the sequel, check out their online survey. Plus 10 lucky people who submit the survey will be entered into a draw to win a copy of Velocity Ultra.
Velocity Ultra will be released exclusively for Playstation Vita a little later in the year, there's no confirmed date yet but I'm sure FuturLab will keep everyone up-to-date.