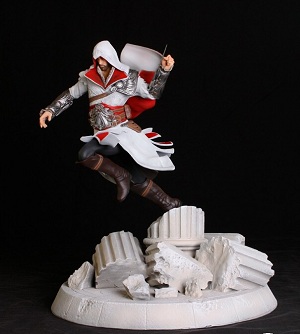 Ubisoft have announced UbiCollectibles, a collection of premium, limited edition merchandise for fans of their games, including Assassin's Creed, Might and Magic, Tom Clancy's Ghost Recon and more.
All UbiCollectibles are available through the UbiShop and pre-orders are being accepted from European customers as of today.
The first of the UbiCollectibles are for the aforementioned franchises and fans have the chance to buy a highly detailed hand-crafted Ezio statue; 'Ezio's Fury' which will be limited to 2,000 units. Might & Magic fans are being treated to a limited 500 unit figurine of Michael the legendary Archangel using a design chosen by fans on Facebook.
One slightly different collectible on offer is a limited quantity of 'Production Team' Ghost Recon t-shirts as worn by the development team at this year's E3 2011. All items are being sold in very limited quantities, so if you are a Ubi fan, you best get your pre-orders in now!
"UbiCollectibles are designed to give true fans something special," said Geoffroy Sardin, Chief EMEA Marketing and Sales Officer at Ubisoft. "Each item is a custom-designed, limited edition, created to give fans an exceptional way to deepen their experience with their favourite Ubisoft universes."
Future items from UbiCollectibles will include apparel, more figurines, lithographs, jewellery and replicas from Ubisoft's best-selling brands, pre-orders are available on the UbiCollectibles website.