It goes without saying that video games are an extremely noisy hobby, and whether it's your mother, father, partner or neighbour, at one point in your life you will have undoubtedly been told to keep it down, adjust the volume, or perhaps simply take it upstairs. Thankfully Nathaniel Baldwin invented the Headphone back in 1910, and since then gamers have rejoiced at the ability to keep their gaming simply inside their head. Now there is a lot of Xbox 360 Headsets on the market, but if you wish to totally immerse yourself in your hobby there is only one contender for you.
The brand Turtle Beach is well known in gaming circles for their exceptional, high quality gaming headphones, and headsets. The Ear Force X41s are in fact often thought of as the best wireless headset for the Xbox 360, so we at Gamercast thought that we'd give them a good run for their money.
Design
Everyone these days are all about the aesthetics, if it doesn't match your iPod most people are disgusted, thankfully the X41s look nothing like an iPod, and the compact design of the transmitter is both beautifully sleek and small enough to slide in just next to your Xbox 360.
Whilst the transmitter is spectacularly shiny, the most impacting design choice made on this particular pair of headphones, is that the transmitter sources its power directly from the Xbox 360 rather than a standard DC adapter. This means you won't need socket space to use the headphones, and that they are turned off as soon as your Xbox 360 is shut down, perfect for keeping as much life in the batteries as possible.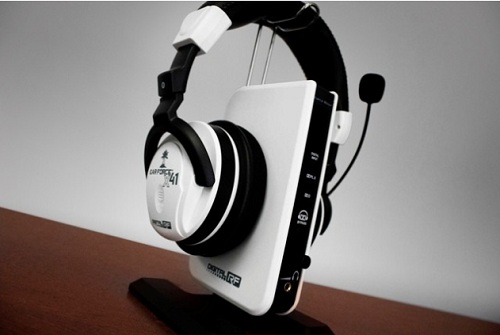 The circular cups of the X41s are extremely fitting, and the spongy casing did not cause any distress to my ears whatsoever even with prolonged usage, which can be the case with a lot of headphones.
Audio Quality
The X41s support 7.1 Dolby Surround Sound, now the issue with this, is that the Xbox 360 does not support over 5.1 Surround Sound. This means that the X41s are using 5.1 that is simulating the effect of 7.1 Dolby Surround in your ears. Whilst simulated sound may not sound as though the headphones are that amazing, don't knock them until you try them out on an Xbox 360. You've so much sound encompassing your head that even the dashboard sounds so fantastic you'd think that the headphones weren't plugged in, and you were actually hearing sound from your TV.
When using the X41s I attempted to get the most that I could out of them, and listened to a variety of music, watched recorded TV, and of course played some games. Not discriminating against any genres, except for Sports of course, the X41s had a go through audibly superior horror games such as Condemned and Dead Space 2. The headphones proved extremely effective with tight claustrophobic games where every sound is vital to your enjoyment of the game, this is helped as every direction of the speakers are very clear, and the audio does not sound condensed in any way, leading to an extremely effective and engaging experience, whether you are playing Dead Space or Settlers of Catan.
A pair of headphones like the X41s will be expecting to pass through an abundance of overtly loud and brutish shooters, so we tried them out with Call of Duty: Modern Warfare 2, needless to say there was a warzone going on in our ears, and we had never heard the streets of Afghanistan feel so alive and vivid. When we needed to try out a racing game we turned to Need for Speed: Hot Pursuit which sounded exceptionally brilliant as we raced past police and crashed into scenery. Simply put there was no game found that sounded bad on these headphones, in each game the quality of audio was high, and the total effect of the surround sound encompasses your very being.
Technical issues
Thankfully unlike some electronic devices that require pairing, the X41s are extremely easy to pair up with their transmitter, and from unpacking them from the box the headset is practically ready to use within seconds, installation of the microphone is also painless. Possibly the most user friendly capability of the X41 transmitter is that it allows you to set the headphones up alongside your surround sound or home entertainment system with no need to manually switch between audio devices.
The only real problem with the X41s are that they still use batteries over a rechargeable source of power, although the unit does boost the power of batteries there is only so much a battery can go through before it reaches its inevitable death, perhaps if Turtle Beach decide to release a set of X42s a lithium ion battery or a rechargeable cradle is hopefully on their list.
Distortion can also be a problem depending on your setup, if your Xbox 360 is sat at a desk with a computer you may find that certain wireless properties from your computer will cause interference, such as wireless routers, the X41s were most effective used at a television setup where minimal distortion was found.
Over the microphone we tested a variety games, best of all was the fantastic Red Dead Redemption, using the microphone produced brilliantly clear reception with almost no loss of quality whatsoever, and with the added Chat Boost technology the X41s will allow you to hear the other guys talking trash to you even if the sound of gunfire is too deafening.
The headphone themselves contain 50mm speakers within them, and receive on a Digital RF reception of 2.4GHz, this is much like most wireless devices such as your wireless router, and so as previously mentioned it is possible for a little audio distortion to pop up every now and again, however it has been proved that the official Xbox 360 wireless receivers will not interfere with the headphones in any way.
The transmitter broadcasts up to a range of 20ft, great for if you just want to kick back in the house and listen to some music away from your Xbox. The transmitter also allows you to plug in an extra pair of stereo headphones just in case your friend wants to play alongside you and listen in.
If you wish to read the specific technical specifications of the Turtle Beach Ear Force X41s you can read them here.
The X41s are an exceptionally good headset for your Xbox 360, although they are quite specific for the one console they work beautifully at keeping your gaming experience at a high, and your noise interference to a low, after all, nobody wants the police asking why they heard gunfire coming out of your house.
You can currently buy the Turtle Beach X41 headsets from www.gamingzap.com for £129.95.