When you talk train simulators there is always one franchise that comes up, Trainz is a brand that has been running for 10 years now, and they are celebrating it in style with a 10th Anniversary Collector's Edition.
Stock is limited to 2,500 copies, and is a collector's edition of Trainz 12 more than anything. However the most important feature of Trainz 12 is that is contains the long awaited multiplayer, allowing fans to build, operate and run railroads with their friends. The game comes with a 1 month subscription to the multiplayer service, and more importantly it may come with a Trainz Golden Ticket; giving you the chance to win every Trainz title made over the next five years, however there is only 10 in the complete run of collectors editions, so you'll need to be pretty lucky.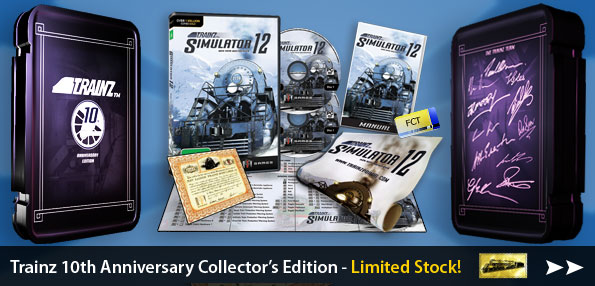 Included in the pack is the new Trainz Simulator 12 with Multiplayer, a 10th Anniversary Collector's Edition Certificate, a keyboard shortcut card covering both playtypes for Driver and Surveyor, a poster, and a huge 245 page manual all packaged up in a Metal Case signed by the whole Trainz team, it also gets you in with a chance to win the Trainz Golden Ticket.
For more details on Trainz 12 check out the Trainz Portal. You can purchase a copy of the 10th Anniversary Collector's Edition from the Auran Store, the Collector's Edition is being released April 21st for Windows, so you better get your pre-order in now if you want to secure a copy.