Looking at the bigger picture, Excalibur Publishing have announced Traffic Manager, taking cues from the classic Traffic Tycoon series, you must take control of a virtual city and manage traffic to the best of your capabilities as you make all of the transport infrastructure decisions necessary to thwart road rage.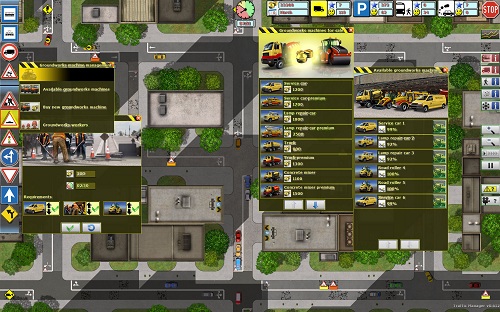 Perhaps you'll build bigger roads to allow for more traffic, or some traffic lights at that busy intersection, heck if you wanted you could abolish cars, and insist everyone take public transport via a network of buses, trams, and underground subways. All the while setting fares that give you profit but leave commuters happy.
What makes Traffic Manage different to the other traffic management games out there is that your transport infrastructure requires labour, and its up to you to hire the staff and equipment; from road construction crews to heavy machinery, but mind that your staff are well paid the city officials will be on your back otherwise.
Like most city simulators, as your success grows so does your city, so you will need to adapt your strategies to cope with an ever expanding population, and deal with harsh conditions such as smog, icy winters, road accidents and a range of challenges intended to put your skills to the test.
Then when spring comes along you will need to ensure you've enough cash to repair the weather damaged roads and keep traffic flowing freely, the most important aspect of Traffic Manager appears to be maintenance, one aspect that many a game has forgotten, and swept under the rug.
Traffic Manager will be released June 3rd 2011 for the SRP of £24.99, it sounds like a pretty interesting traffic manager, and its simple graphics may be the telling point of an engaging management game. Just watch the trailer to see what I mean.