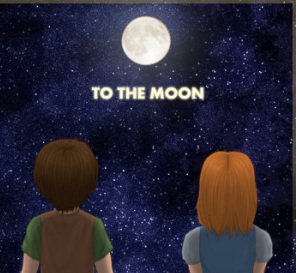 One independent adventure game of last year that proved a smash hit with such big guns as Eurogamer, Gamespot and more was To the Moon, a humble game with a big heart. Lace Mamba Global have announced that they will be publishing the game for PC adventure fans worldwide this Summer.

To the Moon is a unique storytelling project that features classic point & click gameplay elements, lauded for its touching story and characters it was independently funded and developed by Kan Gao and his team Freebird Games.

In the year 2060 Dr. Eva Rosalene and Dr. Neil Watts control a technology that allows doctors to create artificial memoires to alter the minds of patients, however these new memories come at a cost, and the conflict between them and the existing memories clash in a way that stops the person from properly functioning, so the operation is only done to people on their deathbeds, allowing them to fulfil what they wish they had done with their lives but didn't.

To plant the wishes, the doctors are required to step into the memories of the patient and traverse backwards through the patient's life until they reach childhood and transfer the wish over, with this influence the patient can lead an entirely different life inside their head so that when they wake up, they have lived the life they never could, and shortly after die.

The game's story focuses around John, a patient of the two doctors who wishes to have become an astronaut and visited the Moon, now if the premise and storyline alone hasn't got you hooked already, then you are truly dead inside!

" frameborder="0" allowfullscreen>The retail version of To the Moon is scheduled for a release July 7th 2012 for Windows PC in the UK and Ireland for an RRP of £14.99.