Some of you may remember a little game called The Sims Medieval released back in March, it puffed some fresh air into a slightly stale franchise, and gave the addictive Sims gameplay, even more addictive WoW-styled quests.
Well those nice folk at EA have announced that they will be releasing an expansion to Medieval; Pirates and Nobles. Pirates and Nobles introduces players to new quests, treasure hunting and hundreds of new objects to use in their Medieval Kingdoms, catering for the players that wish for more guided gameplay, and those who prefer to sandbox The Sims as much as they can during the Middle Ages.
This adventure pack add-on begins when the Pirates of Aarbyville and the Nobles of Tredony arrive in the kingdom, shortly followed by sword fights, love affairs, grand adventures and mysteries. New exciting quests will have you searching for the fountain of youth, protecting your kingdom from an evil sorcerer, and dashingly epic pirate quests.
The new treasure hunting feature will allow players to find hidden objects and search for desirable rewards that will benefit their heroes that will involve maps, shovels, rare treasure and ever-present dangers, just like every good treasure hunt.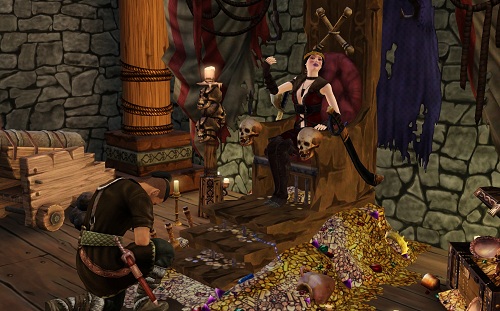 For those of you that just want to spruce up your kingdom, the pack comes with a range of over 140 pirate and nobility-themed items that you can use including companions such as pet falcons or parrots, and a range of furniture, fittings and items for use. Hopefully this will also mean some new fatal flaws, characters types and more!
The Sims Medieval: Pirates and Nobles will see release August 2011 for PC/Mac. We guessed that it wouldn't be long til we saw expansions for this different take on the franchise, and fans of the game will be pleased to hear that the expansion will be coming their way very shortly.