With a week away from its release, adventure fans can enjoy a sneak peak of Pendulo Studio's The Next Big Thing, no that is it's name. From the makers of the critically acclaimed Runaway series comes a new adventure game hot-awaited by adventure game fans, and for good reason.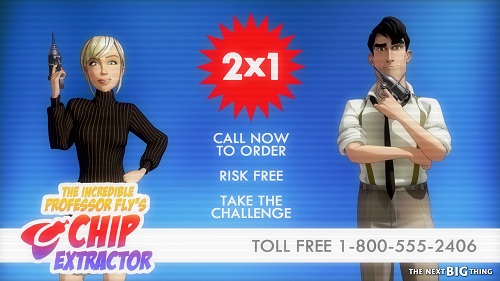 The demo puts you in the shoes of Liz Allaire one of the game's two playable characters; as she investigates The Horror Night Ceremony with her colleage Dan Murray. Whilst covering the event she stumbles upon some suspicious activity as the famous Hollywood monster actor Big Albert is breaking into the office of his boss; the biggest horror movie producer.
The demo will give adventure fans a taste of the crazy, funny and fantastic adventure to come, filled with the whacky characters and puzzles that fans loved in The Runaway, you can download the demo now (792mb) off Strategy Informer and Focus.
If you love funny, quirky adventure games then The Next Big Thing will be straight up your alley, download the demo now, and await the game's release in retail and via digital download for PC on 21st April 2011.