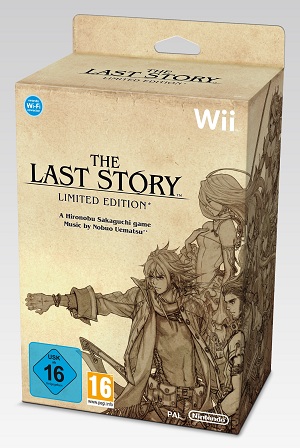 Nintendo have announced that The Last Story is now set to have a rather fantastic looking limited edition version of the game that will sit alongside the standard edition in stores.
This limited edition houses the game in a steelbook cover decorated with some lovely artwork. As well as this it comes with The Elements of The Last Story package which contains a premium soundtrack CD and an illustrations art booklet. The soundtrack features 7 tracks from the game as composed by Nobuo Uematsu, however the number of pages in the art book have not been announced. The limited edition comes boxed up within a nice large card box, similar to what The Legend of Zelda Skyward Sword and Xenoblade Chronicles Limited editions have been packaged in recently.
The Last Story is the newest game to be created by Hironobu Sakaguchi's company Mistwalker and promises to be a modern twist to the traditional JRPG formula; offering a strategic real-time combat system.
As well as a standard story-driven campaign as you would expect, The Last Story also features two online multiplayer modes; Deathmatch and Co-op. Allowing you to play with or battle against up to five other people across Europe. The online games feature rare weapon drops and other items that can then be used in the single player campaign, giving you a bit more of an incentive to play them.
The Last Story is set for release on February 24th and looks to be one of the most beautiful and enjoyable Wii games to date. Pre-orders aren't currently live on any websites for the limited edition but we'll be sure to keep you up-to-date when they are.

If you're looking forward to The Last Story and are a fan of Hironobu Sakaguchi you may want to check out the MCM Midlands Comic Con shortly before the game's release.