2K Games have announced that The Darkness II is in development at Digital Extremes; the developers of Dark Sector. We're slightly worried that Starbreeze are not on the case after being absolutely smitten with what had been achieved in the original. However time will tell when it is released this Fall.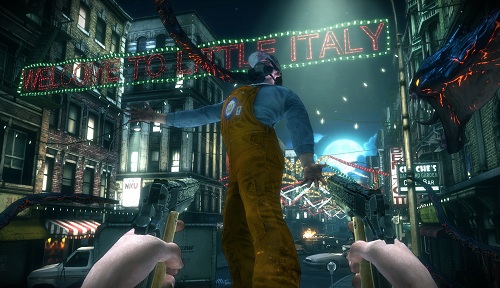 Its been two years since Jacke Estacado used The Darkness to kill the men responsible for the murder of his girlfriend. As the acting Don of the Franchetti crime family, an attack on his life begins a full-scale mob war which opens the door to the return of The Darkness. The Darkness II's story and narrative will be written by award-winning comic book writer Paul Jenkins who will weave in the dark humour that was inherent in The Darkness.
 
The Darkness II returns with dark and imaginative violence and breaks the long convention of first-person shooter with its quad-wielding gameplay, allowing players to slash, grab and throw objects with the Darkness' Demon Arms, whilst simultaneously firing two weapons with Jackie. The Darkness was a brilliant little first-person on the Xbox 360 and Playstation 3, and we hope that this will live up to it as a sequel... after all, we remember how The Darkness ended.
 
"The Darkness II is a well of dark and imaginative violence, and it's a stylized and beautiful nightmare," said Christoph Hartmann, president of 2K. "The Darkness II continues the 2K Games tradition of delivering quality, innovative games that are filled to the brim with atmosphere and deep storytelling. The game takes a unique stance on fighting in the dark versus light. Combined with the arsenal of weapons at Jackie's disposal and the gruesome attacks of the supernatural Demon Arms and Darkness powers, we're proud to announce another title that delivers on our core values of creating games for gamers."
 
The Darkness II is scheduled for a Fall release this year for Xbox 360, Playstation 3 and Windows, we will watch it with slight hesitation.