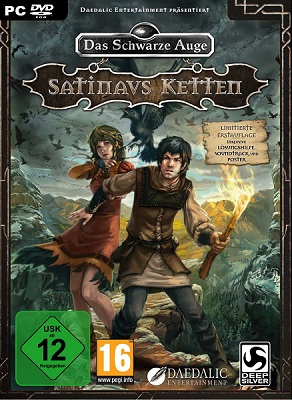 Kalypso and Noumena Studios are not the only developers delving into the sinister realm of The Dark Eye; adventure game veterans Daedalic Entertainment are allowing fans of the acclaimed roleplaying game to experience it in a point and click environment, full of beautiful hand drawn locations and characters.

Daedalic Entertainment and Deep Silver have released a teaser trailer giving you a glimpse of the upcoming adventure game The Dark Eye: Chains of Satinav, the official website has also gone live including details on the characters and setting as well as the soundtrack and wallpapers.

" frameborder="0" allowfullscreen>The trailer offers an insight into the background of the game and the world of Aventuria, and the story of the young trapper Geron whose dark fate has been predicted, he and his mysterious companion Nuri begin by investigating a deadly plague of crows in a search for the source of evil.

As with all Daedalic Entertainment games expect some stunning hand-drawn backgrounds and fantastically animated characters in HD full of clever puzzles and a gripping story in the world of The Dark Eye.

The Dark Eye: Chains of Satinav is scheduled for a release June 22nd for PC.