One of our favourite European adventure game publishers in the UK; Lace Mamba Global have confirmed a UK and Irish release date for the critically acclaimed The Book of Unwritten Tales.
The Book of Unwritten Tales is a humorous point and click adventure game that is a homage to the RPG and fantasy genre across a wealthy history of books, movies and games, and most importantly it is full of dark humour.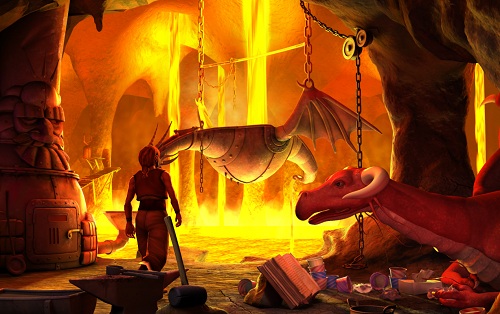 The game's four eccentric characters include a gnome; Wilbur, the elf princess Ivo, human adventure, Nate and The Critter, a shaggy creature that has followed Nate for many journeys. The four heroes find themselves drawn into a world crisis as the Army of Shadows send out their best and most devious agents to discover the secret of a powerful artefact kept by the aged gremlin archaeologist Mortimer MacGuffin.
Featuring around 20 hours of gameplay and more than 150 puzzles, The Book of Unwritten Tales presents a massive game world inhabited with crazy characters ranging from vegetarian dragons to good-natured zombies.
Having only been released in Germany over 2 years ago, this award winning game will finally see released in the UK after twelve 90% scores in its native country. The game tells a fantastic story with exceptional humour and loveable characters, we were sold at German point and click adventure (we've not played a bad one yet!). The Book of Unwritten Tales will be available October 29th 2011.