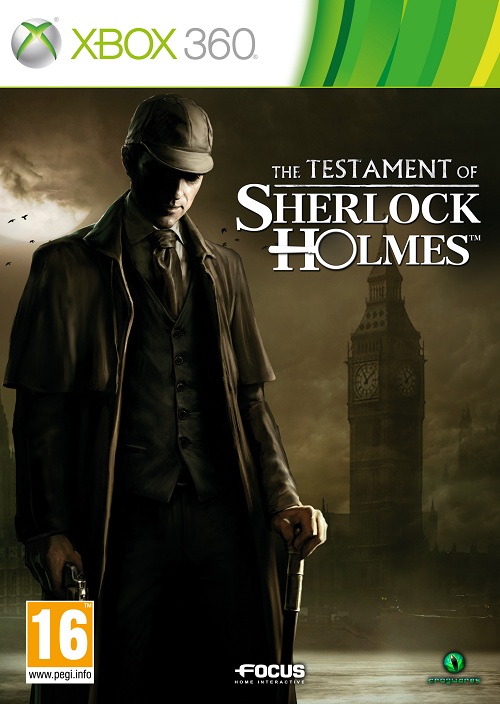 The Testament of Sherlock Holmes marks the sixth outing for the great detective and his faithful Dr. Watson from the developers at Frogwares, and it is very easy to see that the true culmination of 10 years of work comes down to this one game, the question is, will this be the last outing for the pair?
The Testament of Sherlock Holmes is the darkest story from the studio yet, and sees the crime-solving duo at the end of a swift investigation, however when a rather serious accusation is made towards Sherlock Holmes' integrity, his life's work is put on display for the discerning media who suddenly find a lot of unanswered questions and convenient circumstances. It isn't long before Watson himself begins to doubt his friend's actions and motives, to the point where the legendary Mr Holmes is a wanted man on the run. We don't wish to spoil anything regarding the twisting story, so unfortunately this is as much as we'll be mentioning.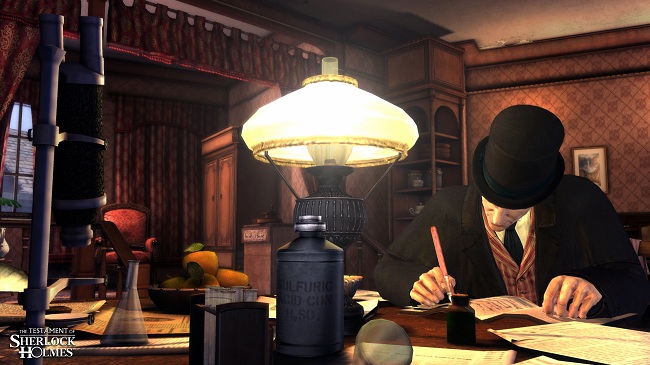 The game shows us a possible side of Sir Arthur Conan Doyle's character that has never really been explored, after all, the good detective could sniff out a culprit with so much ease that it looked far too easy on some occasions, and who is going to doubt the consulting detective. Such a serious matter is met with a very dark air, and so the overall tone of the game is very intense, and rather fitting is the very dingy and poverty stricken side of London that we are so unfamiliar with, which works brilliantly in contrast to the very romantic Victorian Holmes and his upmarket surroundings that we are so used to seeing.
For most of the game, as you'd expect you're in charge of Sherlock Holmes, after all there'd be no fun in not being able to solve the most enigmatic of cases, however unfortunately you do feel quite helpless at times when you are given control of Dr John Watson, which always happens at the most poignant of sections, leaving Sherlock Holmes to explain what is going on, which when you consider the Mass Effect style dialogue system in place, it's a wonder that they don't ask the player to express their thoughts on the case and explain what has been happening all along like the deduction board that we will get to in a bit. That aside, you won't simply be controlling Mr Holmes and Dr Watson, and for the hell of it you'll also have the chance to control the loyal bloodhound Toby, which whilst adorable is a bit daft, feeling quite out of place in such a sombre game.
The bulk of the game consists of two styles of puzzle; logical problems found mainly on padlocks and doors to block your entry from a vital piece of the overarching puzzles, and the brilliant Deduction board that allows you to piece together your clues to form solutions and resolutions to your case. The logical puzzles are devilishly fiendish, and you'll find yourself tearing your hair out with mathematical problems, chess riddles and some satisfyingly tricky puzzles that you would expect of Professor Layton. Unfortunately the deduction board does not make enough of an appearance in the game, although you may understand why after the second act.
One of the most unique and incredible aspects of The Testament of Sherlock Holmes is its ability to front as more than simply a point and click, with three distinctive play styles, Frogwares' have attempted to cater the game for all, giving you the ability to play as a First Person exploration, third person adventure or the traditional point and click, and better yet, each style works so well, you'd expect at least one to feel a little tacked on, but you'll garner just as much enjoyment playing whichever way you see fit!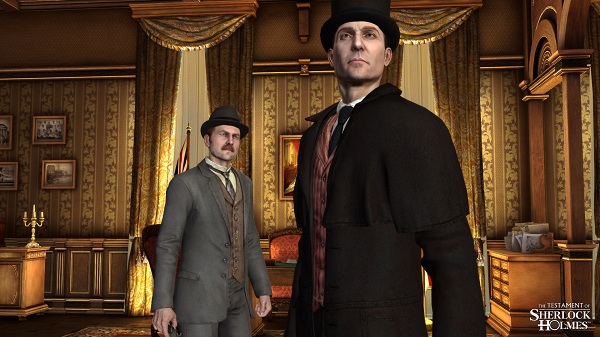 As adventure games go, The Testament of Sherlock Holmes is visually stunning, and Frogwares' engine has come on leaps-and-bounds since the detective's last adventure against Jack the Ripper. Environments are beautifully rendered, and the colour palette is tantalising when exploring the bright and colourful upper-class establishments of London, and yet, delightfully dark when slumming it out in Whitechapel. Unfortunately the animations and lip syncing are still leaving a little to be desired, but when compared with other adventure games in its field, Testament is a true beauty.
Unfortunately, unlike the gorgeous models and environments, the audio design in the game is a bit lacklustre, whilst miles improved from Sherlock's previous tales, the music is sorely underused and played on repeat and can jar with the sometimes intense action that you will see on the screen. Overall dialogue is well written throughout, however you will receive the occasional off-hand comments repeated more than you'd like, and we don't really want to get started on the three children in the attic that bookmark the tale for us.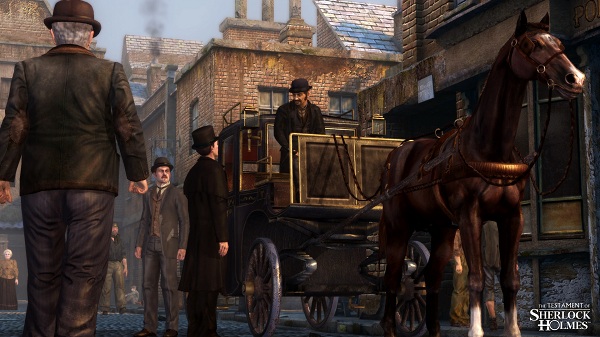 What is most satisfying in The Testament of Sherlock Holmes is that it is a beautifully bulky tale, full of twists and turns it will take you more than a few evenings to crack the case, and with a runtime of around 12 hours you've a thoroughly engaging story to pick apart, whilst some may not relish the exceedingly marmite finale, you'll be second guessing what is going on every second of your journey, and sincerely grow to hate the somewhat bitter and irate spectre of a man that Mr Holmes has become.
The game is a truly stunning example of the modern day point and click, and not only does it have a pretty face, but a great variety of refreshingly unique puzzles to boot, you needn't play any of Sherlock Holmes original adventures before venturing into The Testament of Sherlock Holmes, but in all fairness, you can never really get enough of the most famous detective in all of London!

The Testament of Sherlock Holmes is available in all good stores and online distribution channels for the SRP of £24.99, if you're a bit more of a console gamer it is also available on Xbox 360 and Playstation 3.