A favourite website of Gamercast is GOG who has just successfully accquired another series of gaming greats to it's direct-download website. The Syberia series will now live on forever in GOG's collection of classic gaming; this will be the first time that Benoit Sokal's critically acclaimed series will be available DRM free! All games on GOG also come with added bonuses, the first Syberia comes with artwork, avatars and music tracks for the low price of $9.99, and Syberia 2 will be added to their collection in the coming weeks.
The Syberia series follows the exploits of Kate Walker, a New York City Lawyer who is tasked to oversee the sale of a factory in the alps, however after discovering the existence of an heir to the business, she sets off on an adventure that spans Western Europe and Eastern Russia, this is great news considering that Syberia 3 was forecast a release later this year.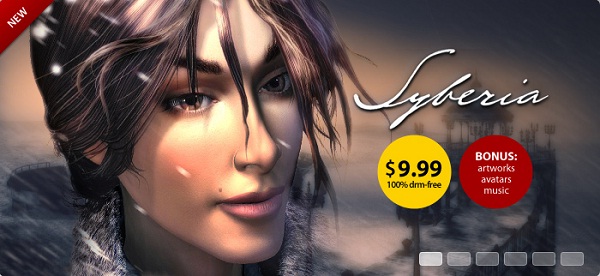 GOG offers many classic titles on their website; the likes of The Longest Journey, Another World, the Tex Murphy series, Phantasmagoria, Gabriel Knight, the original Fallout and a big favourite of Gamercast: Giants Citizen Kabuto can all be bought for a low prices, on their rapidly expanding website.