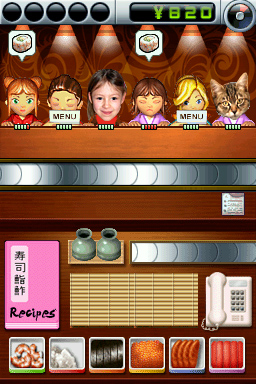 Based on the incredibly popular Miniclip online game that has been played over 60 million times worldwide, Sushi Go Round has had a complete redesign for the Wii and Nintendo DS, to give old and new fans a fresh challenging experience that requires you to remember the recipes to roll sushi, order supplies when you get low, and even clear away dirty dishes.
An exclusive feature available for Nintendo DSi owners will allow them to use their DSi Camera to take photos of friends and family and turn them into patrons in their restaurant!
Sushi Go Round will be fantastic for Wii and Nintendo DS owners looking for their next fix of casual gaming; featuring 5 different game modes and 40 challenging levels, players will be caught up in "endless sushi-rolling addiction".
Miniclip Sushi Go Round will be available on Nintendo Wii and Nintendo DS in the UK on the 14th May 2010.