Lace Mamba Global have finally let the Meat Boy fans out there know what the Super Meat Boy Ultra Edition and Ultra Rare editions are set to include, the editions had been announced but the final contents had not been.
Announced back in April that fans of non-digital download releases would eventually get a full blown retail release of the super addictively hard platformer in the UK. Sadly with the announced contents, the items I had my fingers crossed for didn't make their way into either of the editions of the game. My dreams were including the Symbiote Studios vinyl figures in the Ultra Rare edition, but it's still definitely a worthy purchase for any fans. Details of the contents can be found below.
Super Meat Boy Ultra Edition

Play as Alien Hominid
40 page comic / sketch book
An awesome poster
Digital soundtrack
Secret Bonus content
Plus a copy of the game
You can get all that for a measly £19.99, Super Meat Boy is £11.99 on Steam so for an extra £8 you get a handful of physical and digital extras which will make your friends jealous.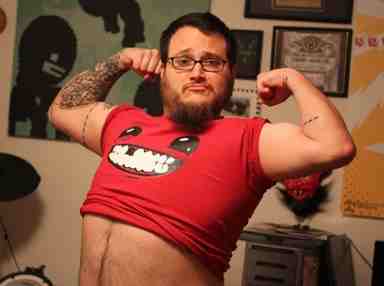 Or if you want to really splash out you can pay an extra £5.00 to get the Ultra Rare Edition which includes a t-shirt as can be see being modelled by this lovely man to the right, the t-shirt itself is a one size fits all XL. So you can then get all the contents of the Ultra Edition with a t-shirt, plus an awesome Meat Boy shaped box for only £24.99.
You can pre-order the Super Meat Boy Ultra Edition and Super Meat Boy Ultra Rare edition off most major retailers now, before its impending release on August 26th.