If you didn't know from listening to Gamercast, the StarCraft II: Wings of Liberty multiplayer closed beta began February 17th 2010, after much nerfing of the Zerg, Blizzard Entertainment have announced that StarCraft II: Wings of Liberty will be released worldwide starting from July 27th 2010. Alongside the standard edition of the game there has also been a Collector's Edition confirmed which includes;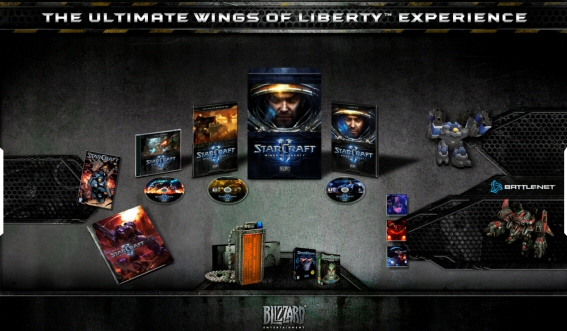 The Art of StarCraft II: Wings of Liberty
A 2GB USB drive replica of Jim's dog tag, preloaded with StarCraft and Brood War
A behind-the-scenes DVD
The official StarCraft II: Wings of Liberty soundtrack CD,
StarCraft comic book issue #0,
A World of Warcraft mini Thor in-game pet
Exclusive Battle.net downloadable content
Starcraft II: Wings of Liberty is the sequel to the hit StarCraft which is hailed by many as one of the top real-time strategy games of all time. StarCraft II: Wings of Liberty is sporting a vibrant 3D-graphics engine, and centres on the clash between the Protoss, Terrans and the Zerg and features unparallel online play through a new version of Battle.net that has been redesigned with several enhancements including leagues, ladders, achievements and stat-tracking.
The solo campaign will continue where it left off in Starcraft: Brood Wars, and chronicles the exploits of marshal-turned-rebel-leader Jim Raynor and will feature new and familiar faces throughout the 29-mission campaign. Wings of Liberty will focus on the Terrans specifically, while the expansions Heart of the Swarm and Legacy of the Void will focus on the Zerg and Protoss, respectively, but do not yet have a set release date.
If you do listen to Gamercast you'll know that our host Paul is a huge fan of the series, I'm sure you can expect to hear a review on the show when the game is released for Windows and Macintosh on July 27th 2010.
You can currently pre-order the Collector's Edition from Play and Amazon where it has an SRP of £69.99.