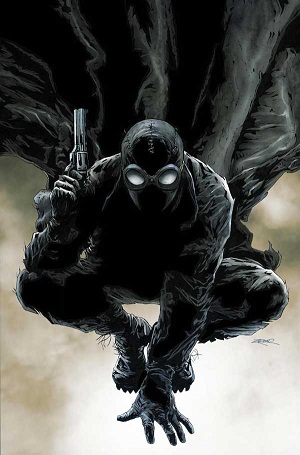 Marvel and Activision have teamed together yet again to bring us another multi-format Spiderman title, and this one is called Spider-Man: Shattered Dimensions. This new game is in development by Beenox and is currently scheduled for a September 2010 release.
Now some of us at Gamercast are huge fans of our friendly neighbour-hood Spider-Man, however the recent Spider-Man games never took our fancy too much (although in the film based games having Bruce Campbell voice the tour guide/narrator made them slightly better). Although from the details that have been released on Shattered Dimensions I am very intrigued.
Most Spider-Man games feature the Amazing Spider-Man version of the web-slinger, however Shattered Dimensions promises that players will be able to travel through four different worlds as four extremely different versions of Mr Parker's alter ego.
So far only two of the different Spider-Man's have been announced which is the normal Amazing Spider-Man variant, along with the astonishing Spider-Man Noir. We can't wait to find out what other variations will be accompanying these two, perhaps a Marvel Zombies Spider-Man or an Exiles version, we're crossing our fingers for Marvel Zombies.
We're hoping that this game will be great, as it's not just a minor costume change that Spidey has, it's a whole new structure to the game; as the Amazing Spider-Man the main focus of gameplay will be web combat and visuals that fans will know of from one of the longest running series'. Where as in contrast, Spider-Man Noir features a totally opposite depiction of the Arachnid, who uses the shadows to his advantage, so that he can perform stealth takedowns, while all being set in a 1930's influenced, black and white cinematic environment.
"Spider-Man: Shattered Dimensions delivers an original storyline that bridges four unique worlds," said Rob Kostich, Head of Marketing, Activision Publishing, Inc. "Each action-packed universe will have its own detailed art design and thrilling missions, challenging gamers to use new skill sets to defeat enemies as they unlock powerful new moves and progress through the game."
The story through-out the game has been written by comic book writer Dan Slott, the story takes players on a mission to capture the magical energy of the Tablet of Order and Chaos, which has conveniently been shattered and scatted across parallel universes, allowing the change of Spider-Men to take place.
Players will have to battle a variety of villains from the awesome Kraven (read Kraven's Last Hunt) to a Noir version of Hammerhead, we are sure that once the last two versions of Spidey are announced, as will more enemies that he has to face.
We will definitely keep an eye on this game, so if you're interested too, keep an eye on Gamercast and when more details have been announced on the two mysterious versions you will be sure to find out here.