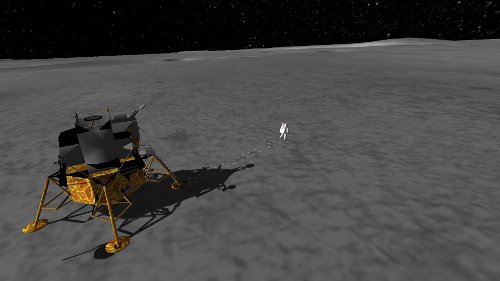 Excalibur Publishing has confirmed that they are currently working on releasing the double pack of Space Shuttle Simulator and Apollo Simulator for August 20th in the UK. Take on missions at the International Space Station as you are launched from Cape Kennedy into outer space. Experience the exhilarating lift-off and master the careful docking procedure with the Space Station, as well as re-entering Earth's atmosphere and landing safely back on earth.
As the Mission Commander you will be tasked with excursions to the Hubble telescope, and recreate missions such as STS-122 having you deliver the Columbus laboratory module to the International Space Station and successfully attach it to the infrastructure using the robotic arm of the Atlantis shuttle.
Robert Stallibrass of Excalibur Publishing says: "Many of us still imagine what it would be like to fly a space shuttle or walk on the moon. These simulations allow you to live out those dreams. The detail in the graphics are incredible and give sitting behind the controls such an enjoyable realistic feeling."
The additional Apollo Simulator allows players to relive Neil Armstrong's Apollo 11 moon landing in the Apollo spacecraft, and with the fully functional 3D switches and controls, player will be able to experience the moon's surface with high-resolution 3D imagery.
Space Shuttle Simulator will be hitting UK retailers August 13th with an SRP of £24.99, for more information on Space Shuttle Simulator and Apollo Simulator you can visit the Excalibur Publishing website.