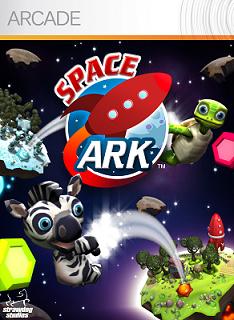 Space Ark the third game developed by Strawdog Studios is released today for Xbox Live Arcade. I luckily had a preview of the game a few weeks ago and I must say I loved it to pieces. Sadly I only had a small number of levels available to play and only in single player as well.
In the full game you get 24 different characters to unlock who explore four rich and colourful worlds. The game features three separate game modes which are Mission mode, Time trial and Survival. Like most Xbox Live Arcade games you have the chance to compete against your friends for the best high scores in the leader boards, and it also features 2 player, which is presented in split screen.
For those in want of a new puzzle game fix on the Xbox 360 I highly recommend Space Ark, promising hours of fun, and extremely cute graphics it will enjoy newcomers of puzzle games, fans of the breakout series and anyone up for a bit of fun in a game.
You can pick it up today off the Xbox Live Arcade Marketplace for a mere 800 points, it's only 284MB in size and if you're unsure if you'll like it you can always pick up a trial of the game. I shall be downloading the game tonight, and you can expect a review on the podcast after I've played it to death.