Namco Bandai has announced a new guest character for SoulCalibur V, as well as a Collector's Edition box set. Ubisoft's Ezio will be gracing the stage of history with his presence as Assassin's Creed's most popular character joins the ranks of illustrious cameos that the SoulCalibur series is now unfortunately known for.
Ezio Auditore comes with a wide range of his assassination tools including a Roman Longsword, Stiletto, Crossbow, Hidden Gun and his trademark Hidden Blade. Surprisingly enough he will be available on both Xbox 360 and Playstation 3, so no exclusivities this time.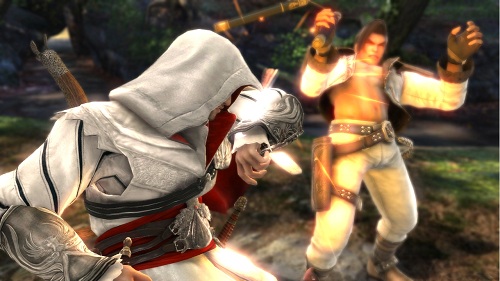 The Collector's Edition will come packaged in a specially designed 'book' box, inside will be a high quality art book, original soundtrack CD, a making-of DVD, original artwork, a letter signed by the team at Project Soul and the Black Knight and Paladin armour set DLC. If you pre-order at participating retailers you will be able to receive Dampierre from Soul Calibur: Broken Destiny as a playable character also. Unfortunately there are no images of the Collector's Edition yet, but we are sure that one will surface soon enough.
Featuring both new warriors and old legends, SoulCalibur V focuses on the tale of Patroklos Alexandra, son of Sophitia when his family's destiny intertwines with the Soul swords. With a refined battle system, stunning graphics and the revolutionary 8-way movement system, SoulCalibur V will be available February 3rd 2012 for Xbox 360 and Playstation 3.