Excalibur Publishing has just announced another new simulator coming very soon. From the makers of Farming Simulator 2011 comes Ski Region Simulator 2012, taking a slightly different approach to the simulator genre, Ski Region gives you a single lift and a trail, and asks you to venture out into the big world and create a world class resort!
The key to your success is visitor satisfaction, so you will need to tend to your slopes with a range of equipment including snow cats or snow cannons, and because this is a game from GIANTS Software you know that each vehicle will be realised in as much full and authentic detail as possible.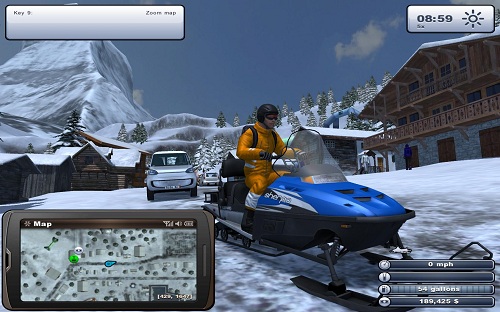 You can explore your four square kilometre ski zone on foot or by vehicle, and it is your choice where you construct the ski-lifts and the facilities to make your visitors feel at home.
Your management skills will be put to the test with the realistic night/day cycle and dynamic weather and events that can throw your business out in the cold! Providing entertainment options for your guest can always satisfy on those ice-cold days that no one wants to hit the slopes, you'll just have to make sure that you accommodate for as many of your visitors as you can.
Ski Region Simulator looks to be a rather original concept for a simulator, and with such heavy-weight developers behind it, it may be a fantastic addition to your collection when it is released December 9th 2011 for £24.99.