We know at Gamercast that the world of video games does not revolve around the American territories, let alone the UK. We realise that a lot of our readers are from all over the world, and are big fans of simulators. So we were pleasantly surprised to hear of Russian developer Red Spell's Sim Hospital that is available now on Lithuania's largest social network ONE.LT.
i-Jet Media; an international social games distribution network is acting as their publishing, and have already released the title on Draugiem, Friendster, Netlog, Lokalisten, LiveJournal, and VZnet Networks.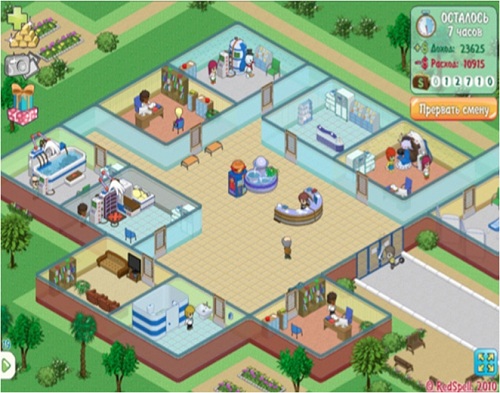 Sim Hospital is a business simulator, that looks very similar to the late, and great Theme Hospital, and the player develops their own hospital in the bid to become the largest and most profitable. You can expand your hospital by equipping rooms, hiring staff, organising medical research and ensuring that patients receive all the medical help that they require.
As you can imagine, and see, the game is practically Theme Hospital, so, rather than firing up the emulation software to run the game as intended, or turn on the Playstation 3 and play the classics version released, play a social version of the game, that way you don't feel bad about turning the game off; after all, on a social network it will still be waiting for you when you get back!
With no renewed interest in the Theme Hospital franchise, EA have definitely missed out on one of the most cult Theme titles in the series, so it is great for a developer like Red Spell keeping the magic that players once held, alive. So if you are a user of ONE.LT, what are you waiting for! Start playing Sim Hospital!