Publishers Lace Mamba Global have announced that they will be releasing a boxed edition of the recent Sam & Max - The Devil's Playhouse throughout the UK and Ireland on August 26th 2011.
After bringing out the Tales of Monkey Island Collector's Edition; unavailable outside of the US, Lace Mamba have gone once further again with the brilliant Sam & Max series to release a boxed edition unique to the UK. Containing five collectible Sam & Max badges and an artwork poster by creator Steve Purcell.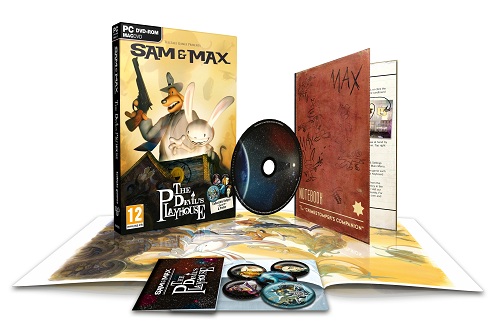 Sam & Max puts a twist in the aging franchise by bestowing Max with powerful psychic abilites that you will need to use to solve puzzles, thwart powerful enemies, and investigate exactly why and how he has gained them. With allusions to HP Lovecraft among others it is one of the most inventive series's yet. Fans of the rabbity-thing and dog cannot miss The Devil's Playhouse, if only for the noir stylings of episode 3.
Sam & Max - The Devil's Playhouse is set for a retail release August 26th 2011 for Windows & Mac, if you haven't had the opportunity to play the latest escapades of the Freelance Police, you've no better opportunity with a recommended retail price of £24.99.