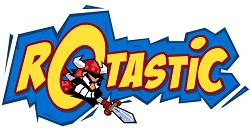 One game I had a play of at E3 was Rotastic a new arcade title from Dancing Dots; an indie game developer from Paris.
Rotastic from what I played at E3 it felt like a mixture of Peggle, meets DK King of Swing, or even LBP2 when using the grapple hook. The movement of the character and motion from swinging is very rewarding and really helps connote when is best to swing onto a new area, or you could just play it how you wish.
Although quite finicky and fiddly I found Rotastic works very well but you can find yourself swearing frequently when getting your timing wrong. Requiring similar patience to what is required with Super Meat Boy.
Rotastic is going to be available first on the Xbox Live Arcade from September 21st for a mere 800 MS points. It will later be available on the Playstation Network with a current release date of Q1 2012, and it will also be available for Windows around the same time. I highly recommend downloading the trial and giving it a play!