Sega and Creative Assembly have finally announced the release date for the highly anticipated Total War: Rome II including a collector's edition and pre-order bonuses that might peak your interest in the next instalment of the critically acclaimed strategy series.
Total War: Rome II has been slated for a global release of September 3rd 2013 across all territories in both physical and digital formats, with such a short time to wait, the game is already available for pre-order and Sega have announced a few nice additions that you eager beavers out there can get in on.
If you pre-order the game from participating retailers you will receive Rome II's first DLC for free on release day, the first pack; The Greek States Culture Pack adds three additional playable factions to the game; Epirus, Athens and Sparta. Each faction has their own unique units, buildings, missions and win conditions alongside a distinct tech tree.
However what might come as a little more interesting is the extremely limited Total War: Rome II Collector's Edition of which only 22,000 individually numbered copies will be manufactured, sounds alright? Well you haven't seen what you get!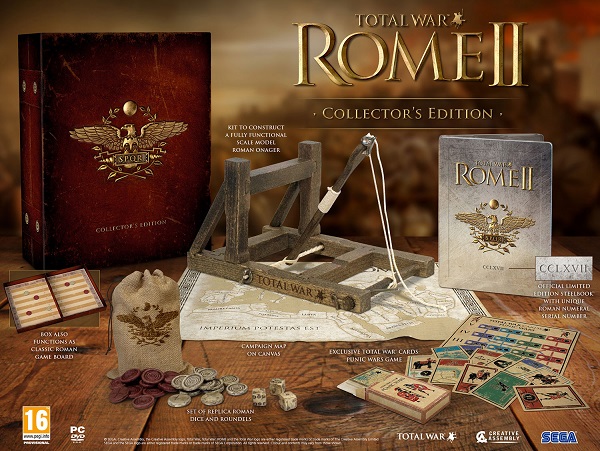 The Collector's Edition comes with a wealth of custom Roman-themed games and items bound in a leather-effect presentation box which also functions as a game board! So not only do you get a copy of the game numbered in a debossed Steelbook, you get a set of Tabula the forerunner to Backgammon, a set of Tesserae Dice that are used in a variety of Roman games.
You also get Total War Cards: Punic Wars a card game built from scratch and consisting across 58 playing cards and a game-board, the game takes elements from Rome II and is designed for two players. Not enough? Well you'll also get a standard of great PC collector's editions; a map, however this one is made of Canvas and tied with ribbons! Still not convinced, how about a complete fully-functional Onager, granted you must assemble it, but constructed from wood and steel you will be able to unleash small projectiles at pretty much anything you like, although Sega do not condone that action!
Available from selected retailers you'll want to snap up this one fast, as they certainly don't make them all this good! If you don't feel like splashing the cash for the £109.99 SRP, then you could just pre-order the standard edition which is available now from the SEGA Store and other reputable retailers.