Everyone's favourite Rocket Knight; the jet-packed opossum is making a return on the XBLA, PSN and Steam, in a re-imaging of the classic Rocket Knight Adventures. 15 years since his first game on the Megadrive, Sparkster returns home to find the kingdom of Zephyrus in shambles. You will have to use your wits, as well as Sparkster's rocket pack to dodge and defeat the wolf army from threatening the lives of his fellow opossums. Rocket Knight features gorgeous next-gen graphics across four exciting worlds including both expansive platform stages and flight stages. With his jet-pack you will have the ability to ricochet Sparkster off walls and hover in mid-air, and best of all, use his prehensile tail to hang and slide down rails the way he used to in Rocket Knight Adventures.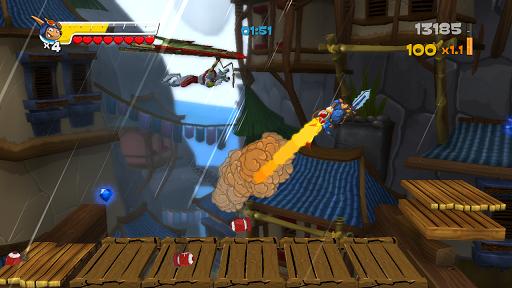 Incidentally, the reason that Konami asked Climax to develop the Rocket Knight title, was due to their facial animation technology, as Konami wanted to capture the same spirit that the original game had, by giving Sparkster a personality through his facial expressions that change according to the situation that he is in. Rocket Knight will be available on the Xbox Live Arcade, Playstation Network Store and Steam, around May 2010.
Now if a remake of Dynamite Headdy were produced I would be very happy! Go on Treasure, you know you want to..