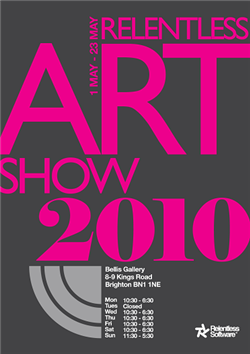 For those interested in games, along with a special interest in the people behind them, Relentless Software are holding 'The Relentless Art Show 2010' at this year's Brighton Fringe Festival from the 1st to the 23rd of May 2010 at the Bellis Gallery in Kings Road.
The pieces on exhibit will all be created by Relentless' staff, who are all given the chance to submit personal work to exhibit each year at these art shows. Over the years their staff have submitted anything from figurative painting to cuddly toys, this year boasting paintings, drawings, sculptures, printmaking and various objects. Showing off the collective work of 14 of their staff.
The show is produced by Relentless' Operations Manager, Stuart Dodman, who holds a degree in Fine Art says:
"We wanted to get involved in the Brighton community, and give our teams another creative outlet and from that The Relentless Art Show was born. Not only are our staff great at making video games but many of them have backgrounds and practiced in more traditional art forms. This is our third year and we continue to be amazed at the quality and variety of exhibits we receive."
For those interested in the show it's open between 10:30 — 6:30 every day, however on Sunday they're only open 11:30 — 5:30 and are closed on Tuesdays. It's completely free to attend the show, and is found in the upstairs of the Bellis Gallery (BN1 1NE).
Gamercast are booking a day off in our calendar to attend the show, while also having a lovely day in Brighton at the same time, we urge you to do the same.