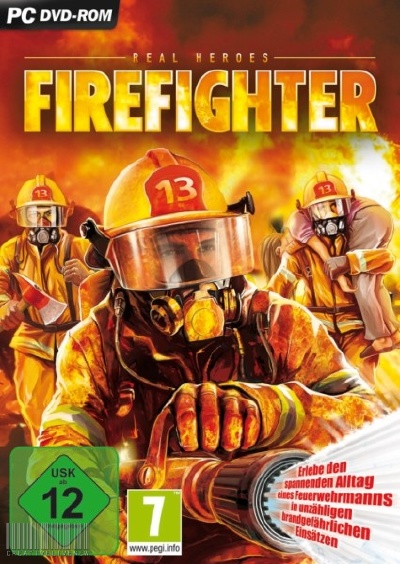 OK, so it's not got the best title, but Real Heroes: Fire-fighter is not the lame game that you expect it to be, crossing the border between simulation and story based action, it's a unique and pretty intense fire-fighting adventure that takes you through the trials and tribulations of Engine Company 13, trudging up through the likes of Burning Rangers and FD. 18 to be probably one of the most cinematic and intense fire-fighting games of all time.
Billed as a simulator and brought to retail from Iceberg Interactive, Real Heroes: Fire-fighter is not a realistic affair, unfortunately if you are looking for a high-realism fire fighting title you will have to resume your waiting, think of Real Heroes as more of the old school Medal of Honor or Call of Duty of the fire-fighting world, in most blazes you'll go in alone being the hero that the player wants you to be, rather than rely on your team mates, you'll find yourself working double-time for them, however if you can put that aside and want a genuinely fun action tale set in the heart of a fire-fighting story, well you'll want to keep reading.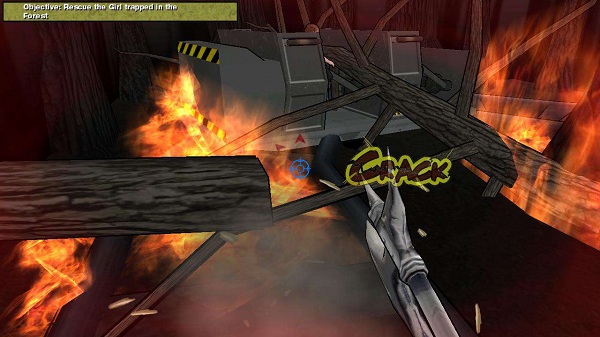 Originally released and made for the Wii, developers Scientifically Proven have brought the game over to the mother platform, but what is very strange with this transition is that the game has been transformed into somewhat of a comic-book experience, complete with cell-shaded stylisation, onomatopoeia's flying at you and thick ol' borders surrounding cutscenes, whilst it actually works surprisingly well, it does take away from the serious subject matter of the game, and has you question the design choice.
If you're making a game about fire, undoubtedly the most important feature in your game will be the fire-propagation, whilst it may not look quite as impressive as that of the Alone in the Dark reboot, fire spreads just as effectively, and in a completely unscripted way. Within minutes a fire left unattended can turn into dazzling blaze, which is where the intense action of Real Heroes comes about, without a doubt competing against all the zombies, robots and Nazi's that any other game will throw at you, nothing makes you more vulnerable and frightened than the shift of the environment around you!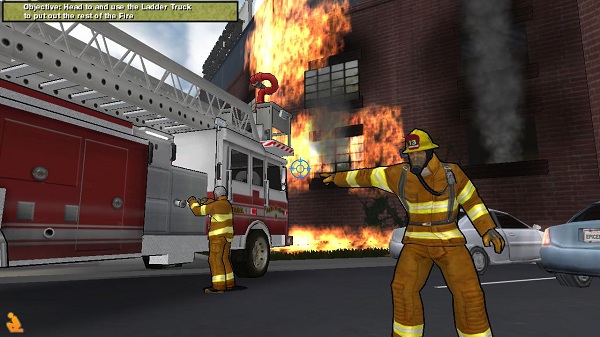 Being a fire-fighter isn't simply pointing a hose at a fire and shooting, and with a wealth of fire equipment you'll need teaching, so if you feel it necessary you can take part in a little academy basic training allowing you to learn the inns-and-outs of being a fireman and getting you accustomed to your equipment. After all firemen are kitted out with a variety of gear, you won't simply be cooling down fires, you'll need to use your extinguisher for electrical fires, bust open wooden obstacles with your fire axe, get through thicker obstacles with your rotary saw, and help stranded people out of trapped items with your hydraulic separators.
When it comes down to it, Real Heroes is a true FPS, you're just trading the pistol for a fire extinguisher, and the AK47 for your best friend; the fire hose, which makes the game super family friendly, although perhaps somewhat difficult at times, you can't simply fire blindly into a blaze, well you can play it that way but you'll find your fire spreads quicker than you can put it out. There is somewhat of a strategy, as your hose line will only take you so far, and with two nozzle types it's up to you to decide if the fire you're tackling requires the short-range, larger surface area of the fog nozzle, or the long range, concentrated spray.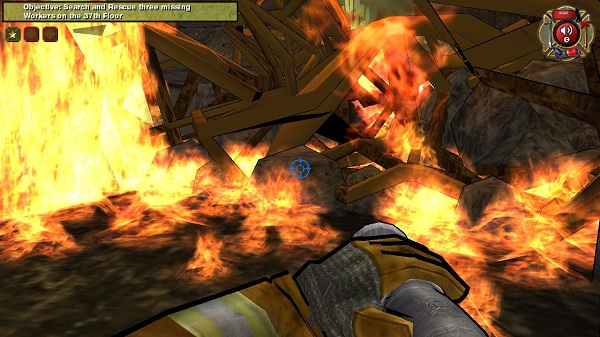 Your career as a fire-fighter spans across eight different levels that all weigh in at about an hour a pop, giving you a fairly lengthy story to play out, better yet there's a great deal of variety in both the level environments; warehouse, robotics lab, suburban neighbourhood, bridge and amusement park, and in the tasks required of you; putting out fires, using the deck gun on your engine, dropping down elevator shafts, busting down doors, saving people, rescuing rare film reels, even protecting chinchillas and pieces of art from the fiery clutches of doom. Granted you'll never get away from having to put out fires, but do people complain that they have to shoot too many bad guys in the newest FPS?
If you're looking for an intense representation of fire-fighting with all the action and storyline of a cinematic blockbuster then you needn't look any further than Real Heroes: Fire-fighter, it may have a few clichés in there, but it's just so simple, fun and entertaining that you can throw qualms like that out the window.

Real Heroes: Fire-fighter is available now in all good stores and online retailers for the SRP of £9.99, if you'd prefer it on a console, you should still be able to pick the game up for the Nintendo Wii and Nintendo 3DS.