Today much to the praise of the elite PC gamers -and no I'm not saying that's a bad thing; I'm one of them- Ubisoft's fantastic foray in the perfection of platforming; Rayman Origins has been announced for release on PC!

Fifteen years after Rayman's original launch, players new and old can rediscover the legendary 2D platforming that captured the hearts and minds of millions of fans. Whilst many that played Rayman back in his heyday have felt that the armless hero has dwindled in greatness of late, you can be assured that his latest outing is little short of perfection!
Invoked by the Fairy Council to save the Glade of Dreams from the Darktoons, Rayman teams up with his pal Globox, and two little wizards the Teensies.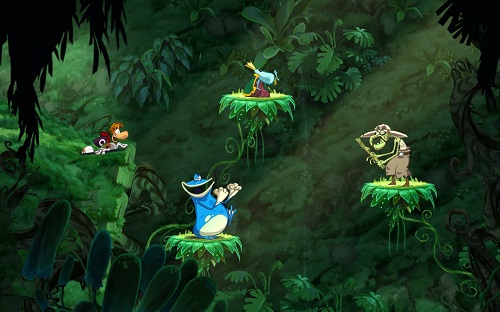 With both a single player or co-operative campaign, you've the choice to play as Rayman alone or have up to three friends in and play as Globox or one of the two Teensies, unfortunately just like the console release co-operative play is limited to offline, so its time to get those controllers out!
With 60 beautifully crafted levels of 2D platforming to explore, you'll not be finishing Rayman in a hurry, it's also one for you completists out there to paw over with a variety of collectibles, awards and secrets to unlock.
Rayman Origins was one of the most beautiful games that we had the pleasure of previewing at E3, and its challenging, but fun gameplay really lends itself to the co-operative play, so it's fantastic news that it will finally be garnering a release on PC. Rayman Origins will be available March 30th 2012 in retail stores, online and through the Ubishop.