Bad news! Xbox One owners may be getting Rayman Legends a little earlier than originally intended, but Plants vs. Zombies Garden Warfare has slipped a little!
Don't worry its not much later, you'll still be able to enjoy the 3rd person shooter like no other in just over a month, you've never heard of it? You don't like tower defense?
Good for you, because Plants vs. Zombies Garden Warfare can be enjoyed as a straight up third person shooter.. You might just not do very well.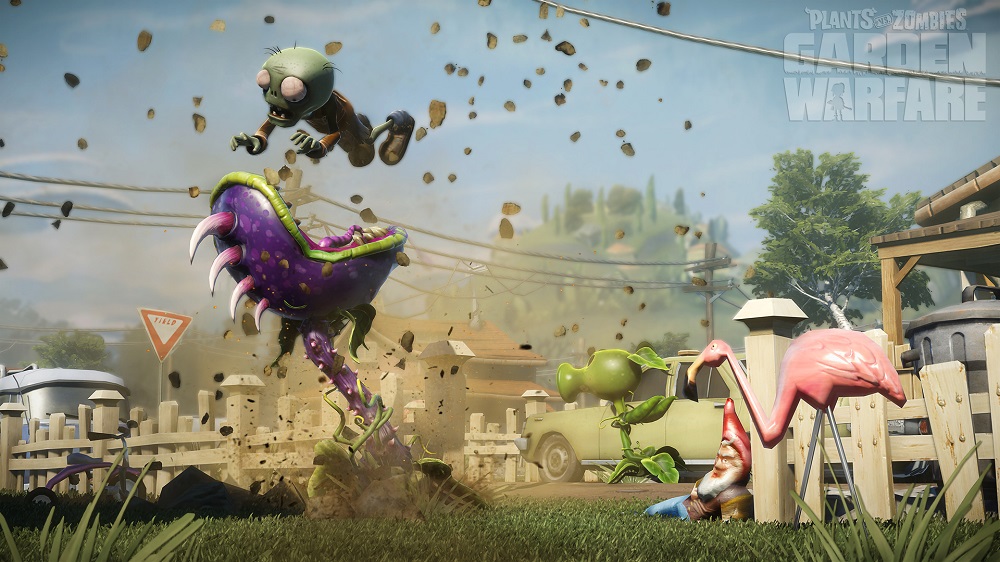 But what other game can you shoot peas from your face and call in a garlic drone! There's also all- new reinforcements like the Hot Rod Chomper, Future Cactus and Mystic Sunflower. Don't worry it's not just fun and games for the plants, as a zombie you get to play with the dolphin gun!
Alongside the news of the release date, a brand new gameplay dev diary has also come out showcasing the four player co-op mode Garden Ops where the Yeti and Giga-Gargantuar bosses make their debut. In Garden Ops you play in squads of four who are working together to defend a garden base until Crazy Dave arrives to extract you to safety.
Garden Ops is not the only mode available though, and the game includes two other distinct modes; Garden and Graveyards where players must defend their garden bases from zombies attempting to turn them into graveyards and Team Vanquish where players square off in all out Garden Warfare.
As possibly one of the most bright and colourful games to come out of last years E3, Plants vs. Zombies Garden Warfare picked up an award from us! Its just a shame there's no single player mode.
You can expect Plants vs. Zombies Garden Warfare on the Xbox One and Xbox 360 February 27th 2014.